BloodMarked
by Lu J Whitley
I enjoyed this book immensely. It's easy to read and clips along at a good pace.
The story is told from different viewpoints, alternating between the heroine and the hero.
The plot flows well with plenty of twists, turns, and action.
The descriptions pull you into the book and you feel involved in the story.
The characters are well developed, Greta is a gutsy heroine with attitude, Jaromir (aka Yummy)is a hot vampire who has problems controlling his inner beast and Stein is a charming, muscle-bound, tattooed troll.
I had a hard time putting down, and was surprised by the sudden ending, which was possibly a bit too sudden, but left me begging for more.
A 'townie' college student, living off campus with her overprotective mother, Greta Brandt thought everything about her life was right on track. Everything, except for the nightmares that have been plaguing her for as long as she can remember.
When her reality is torn apart, Greta finds herself adrift in a world she thought only existed in her fevered dreams. The only soul she can cling to, a dark stranger who seems to know her better than she knows herself.
Jaromir Ragnarsson is a shadow in a world men do not see. Charged with protecting the Brandt women from untold dangers, he had been ever vigilant in his task. Until one night, a fatal mistake threatens to take away mankind's only chance for survival: Greta Brandt.
Now, he must find a way to protect Greta in his hidden world, where magic and myth are fact not fiction. And curses are very, very real.
Storm Portal
by Michael R. Stern
Michael R. Stern brings a new twist to the concept of time travel in this fun, fast-paced and inventive read.
The quality of his writing makes it easy and exciting to read. It's a real page-turner, with a new surprise or twist with each turn of the page.
The captivating plot isn't overloaded with science, but takes you on a wild ride into the past and back to the present day, bringing history to life on the way.
All the characters, past and present, are fleshed out and have their own personalities. Fritz is a down to earth, nice guy who cares for his wife and his friends, is committed to his students, and struggling to understand the circumstances he has found himself in. The President is tactful and poised and responds with confidence to the unique situation, as befitting his position. Ash is intriguing, and I think there may be more to him than meets the eye.
Storm Portal is a wonderful start to the series and I am eager to read book 2, Sand Storm
Time travel is real, of that, Fritz was certain. He'd just done it. Meeting Robert E. Lee was fascinating, especially the way he got along with the kids. But witnessing the Triangle Fire with his class was scary. As a history teacher, his job was to teach, not participate, in events long past. And what if they hadn't been able to get home?
Fritz Russell, an experienced and well-liked teacher at Riverboro High School, has found a portal to the past, his classroom door. But his trips didn't happen every time. To make matters worse, he and his principal, George McAllister, walked in on the President of the United States. The portal was also a tunnel in the present. And he had no idea how it happened, how to control it, or what damage he was causing, in the future.
With his wife, Linda, and his friends, Fritz investigates the mysteries of time travel, of the portal itself, while the nation's security apparatus gears up. Can the President help them?
Can they find the answers in time?

GRAVITAS: VALKYRIE IN THE FORBIDDEN ZONE
by Lynne Murray
A well-written and fast-paced adventure. I liked the plot and the humour of this easy to read book.
I enjoyed the author's ideas on how people from other worlds and cultures may see us, and the attention to detail and witty dialogue.
The author's take on the origin of religions on earth is unique and amusing.
The characters are interesting and memorable, and I loved that the heroine, Sybil, is a 'well-built' woman instead of the size zero that seems to be the norm in a lot of books as well as in society itself.

An urgent mission.
A woman with a past.
A dangerous burden.
Sybil, from Planet Valkyrie, carries a risky amount of Gravitas, a top secret aphrodisiac, to trade at a conference on ending slavery in her sector of the galaxy. Attacked by an angry warrior from slave-holding Planet Roggr, Sybil falls through an unmarked portal to land on Earth. The Forbidden Zone. Rescue is impossible. Portals to Earth are sealed. Sybil needs to defend herself, protect her hazardous cargo, and find a way home–while dealing with a damaging overdose of Gravitas.
Cigerets, Guns & Beer
by Phillip T. Stephens
With plenty of dry humour from the beginning, this is an enjoyable book to read.
The characters are well-developed, from the likeable and calm 'hero' to the lowbrow backwater villains.
It's a fast-paced story that has more twists and turns than a rollercoaster. Just as you think you know where the story is going it veers off in a different direction.
Due to some descriptive, (though not pornographic,) sex scenes this book is not suitable for young readers.
All in all, I would say that this is a 'ripping good yarn'.
Murder, sex, buried bank loot and legends of UFOs Dodd breaks up a convenience store robbery when his car breaks down in Sweet Water Falls, Texas. What's the thanks he gets? The sheriff won't let him leave, the car lot can't find the parts and everybody wants him for something-sales pitch, church membership, and even stud pony. But most of all, it seems a family named Dodd were shot down robbing the bank in 1949 and the half million they stole remains missing. Everyone thinks Dodd returned to dig up the loot and no one intends to let him leave until he finds it-along with (or so the legends go) a long lost flying saucer.

The Dragon Dreamer
by J.S. Burke
The author cleverly mixes fantasy with fact in this delightful and original story which is appropriate for all ages, including adults.
The friendships between the different species are as engaging as they are inspiring. They learn to communicate, respect and trust each other as they experience some tough and demanding adventures
The world(s) in which they live are wonderfully described as are the creatures that inhabit them. The characters have human qualities and emotions, and are easy to relate to.

The Dragon Dreamer is a fast-paced adventure with flying dragons, an undersea world, and an unexpected friendship. "Fear ran up his spine like an icy claw. The legend was alive . . . " It's a young adult science fantasy layered for ages 9 to adult.
Arak is different, a worthless dreamer, tormented by other young dragons. Determined to prove himself he leaves the clan and flies far over the sea on a dangerous quest. He's caught in a fierce storm and crashes, suffering serious injuries and the loss of his trance-stone. A fearless, shape-shifting octopus named Scree finds and heals him, and an unexpected friendship begins. Arak returns to the Winter Festival, where dragons carve glaciers with fire and toss lightning bolts in the clouds. When an undersea volcano erupts, it triggers a towering tsunami and a deadly chain of events. Can Arak use his secret gift to save the dragons?
Raising Hell
by Phillip T. Stephens
An unusual, one-of-a-kind, laugh-out-loud road trip through Hell.
This book is unique it's like nothing I've ever read before.
Phillip T. Stephens is a master of one-liners with a brilliant, albeit dark and mature, sense of humour.
It's a descriptive, brimming with details, that make you feel as though you're there, however, this doesn't prevent the story from moving along at a good pace.
The characters are well-written and likeable and had me alternating between rooting for Pilgrim and feeling sorry for His Satanic Majesty Lucifer, Sovereign Lord of Hell.
I loved the names for all the different parts of hell.
A clueless optimist ruins a perfectly good hell.
Pity poor Lucifer. He rules hell with a vice grip. Demons and damned scatter at the sound of his foot steps. The Supreme Butt In hasn't pestered him in eons. Lucifer's future looks perfect, pitch black, until an administrative error sticks him with an innocent soul—an overweight optimist who calls himself Pilgrim and who believes he must be in hell to do good.
Lucifer never considers sending him back. Why waste a second chance to corrupt an innocent soul? He orders his subordinates to torture, degrade and humiliate Pilgrim until he promises to become evil if only it will ease the pain. Unfortunately, Pilgrim makes the best of the worst possible experiences. Always polite and well-mannered, he makes Pollyanna seem like a prophet of doom. Even worse, the damned start catching on, and set about making hell into the most enjoyable place of everlasting torment they can.
Lucifer can't let Pilgrim continue to wreak happiness, but he can't send him back untainted, either. When God arrives with a deadline for Pilgrim's return, he enlists fellow fallen angels Screwtape, Azazel and the gender morphing Mephistopheles in a plot to corrupt Pilgrim's soul before the deadline expires.
Power of the Fae
by Ariel Marie
The first book in The Mirrored Prophecy series is a well-written and somewhat steamy read!
Fae, Lycans, Witches and Vampires unite to battle Demons in this action-packed story, which is full of suspense and danger.
It's highly descriptive and the attention to detail lets you 'see' the places and situations clearly.
The background on the different species is interesting and informative, and the characters have strong personalities.
The book is written from the points-of-view of a few individuals and brings different perspectives to the storyline.
The Ancients spoke of a Mirrored Prophecy that would determine the future. One version of the prophecy spoke of a small female of mixed heritage giving birth to a child that will save mankind. The other side of the prophecy spoke of the female's child being the demise of the world.
The Princess of the Light Fae, Arlina Waldmar, may be small but she is deadly. She is a member of the elite Guardians of the Fae. She has been given the assignment of going to the human realm to investigate the vanishing supernaturals.
Colin MacKenzie, Alpha wolf, has determined that finding a mate is not in his future. His people are vanishing. He will need to lead his Legion, defenders of werewolves to find them. His wolf has recognized a certain dark haired Faery Princess to be his mate, but he refuses to claim her.
There is an evil set on destroying the Human and Faery realms. Colin and Arlina must work together to defeat this evil. His thoughts are constantly on Arlina. Arlina knows there is no fighting the attraction between them. Can she convince him to give them a chance before it's too late?
Fight for the Fae
by Ariel Marie
I enjoyed the second book in the series as much as I did the first.
It picks up the story where Power of the Fae ended, the Fae, Lycans, Witches and Vampires are still battling Demons to save the realms.
The writing continues in the same vein, with the vivid visuals, the suspense and the steamy scenes.
The characters strengths and depths are enhanced by the multiple viewpoints in this great follow up.
Arlina, Guardian of Faery, has sworn to protect all of those who consider the human and Faery realms home. She agrees to go to the Underworld and surrender herself to the Demon King. Discovering the missing supernaturals and his plan for them, she must stop the Demon King at all cost.
The Demon King's banishment has been broken. His horde of creatures from the Underworld has been released onto the human realm, annihilating everything in their path. Once he conquers the entire human realm, Faery will be next. The power he harnesses from Faery will make him next to indestructible.
Colin has made a promise to go after Arlina. He refuses to let his mate go, but devastating news about her makes its way from the Underworld, tearing his world apart while his past comes back to haunt him.
Vampires, Shifters, Witches and the Fae must stand together in order to fight against the Demon King. Their belief in Arlina must not waiver. Their very likelihood depends on her powers and the destiny that she chooses. The Mirrored Prophecy has now been set in motion but Arlina refuses to roll over and let fate decide her future. Only she can control her destiny, no one else!
More is at stake now more than ever but will she prove that she can control her future, save the realms and reunite with her true love?
Princess Alexia and the Dragon
by K. Meador
A wonderful children's story that is sure to delight and entertain all princesses, and many princes.
Papa's enchanting story about Princess Alexia shows Jasmine that sharing is important.
Younger children will enjoy having the story read to them and looking at the interesting and colourful illustrations while the language used is simple enough that older children can read it themselves.
Follow Princess Alexia as she and her brave dog, Zoey, as they embark on a mission to confront a fire-breathing dragon. She hopes to do what her father's soldiers could not, capture the dragon so another Ample Apple Orchard celebration would not be attacked and the land set ablaze.
When Princess Alexia faces her adversary, she is frightened, but her fears abate once she and Titus, the dragon, begin talking. Can she convince Titus to stop plaguing her father's kingdom, and will the festival be celebrated without fear of destruction?
On Top of the Rainbow
by K. Meador
A lovely and imaginative story, with wonderful illustrations.
With the help of a unicorn and an unusual leprechaun, Gabe learns how much he means to his family, how important they are to him, and that running away won't solve his problems.
It's short enough to keep the attention of young children, and easy enough for school-aged youngsters to read.
On my kindle the writing is quite small, however, Amazon is working with the author to solve this.
Five year old Gabe runs away from home. While in the forest he meets Lep and Elita and climbs a rainbow. On Top of the Rainbow he must make the decision to cross over to a land of delight or go back to his family that he loves. Come and visit with Gabe, Lep and Elita as they discover the importance of family love.
God Of War
by Ian Thompson
God of War is a well-written, descriptive and enthralling page-turner, that's not for the faint-hearted.
The twists and turns kept me on the edge of my seat wondering what would happen next and who would survive (or not).
I liked the way the modern story and the one set in Roman times were told in alternating chapters through the book.
The characters, both ancient and modern, were fleshed out and believable.
I can't say I liked all the characters, but then they weren't all supposed to be likable.
A great book my a new-to-me author – I will be adding more books from Ian Thompson to my to-read list.
Horror of the Past. Terror of Today.
Roman greed and ambition created something almost two millennia ago. That creation still lives – starving, lusting for blood, eager to inflict suffering and carnage…
During the Roman Occupation of Britain, Gaius Pertinax embarks on a quest to provide "something special" for Nero's gladiatorial arenas. The ever-worsening consequences of his actions will threaten his life, his sanity and even his soul…
A group of modern-day cavers discover the results of Gaius Pertinax's ancient endeavours. They are trapped deep underground… Running out of food, supplies and power for their lights… Hunted by a behemoth worse than their darkest nightmares: a gigantic creature that kills both to feed and to satiate its sadistic desires…
Is there an escape from this subterranean hell? Can the God Of War ever be stopped..?
Stone Cold
by Karina Kantas
A suspenseful short supernatural story that kept me hooked right up to the last page – I loved the twist at the end.
The story was well-written and flowed well.
The main characters have depth and dimension.
I would have liked a little more explanation regarding the possession.
It's not an easy read, as self-harm, bullying, betrayal, and revenge are all portrayed in the story, but well worth it.
YA supernatural thriller.
Billy has been a target of bullying throughout her schooling. Exams are over but the stress she's feeling leads her to thoughts of suicide. It's her counselor that suggests she volunteers to assist in an archaeological dig in Scotland.
A secluded hostel. The residents start dropping like flies.
Billy knows who the murderer is.
Shane knows he's next to die.
Deep in the Hollow
by Brandy Nacole

The story is interesting with a few twists and has a new take on old legends and evil spirits.
The main characters were well developed and took you along with them as they battled the evil in their town.
This book has been a great introduction to new-to-me author, Brandy Nacole and I will be reading more of her books in the future.
Let me share some wisdom with you. There is evil in this world we cannot see, not because it is hidden from us, but because our minds refuse to accept its existence. But once we are able to get past what everyone says should not be, it becomes our responsibility to stop the evil we now see.
This insight wasn't given to me until a year after I lost the most important person in my life: Bryce Rowan. Now, after another death at the same spot where he died—the overlook, where the mysterious lights dance amongst the trees—I begin to wonder if they were accidents after all.
Lucky for me, I'm not the only curious one in town. Cooper, a ghost hunter (aka chaser), and his sister Jada have moved to town and are starting to ask questions.
But the more we find out about this town and the people who live here, people who I have known my whole life, the more I begin to think there are those who would rather keep the evil secret, even if it means we will never be safe, and that more will die.
Drayton, the Taker
by Tony Bertauski
A beautifully written, descriptive short story – the first of five, but is a good stand alone tale.
There is so much depth and intrigue in this story that I was drawn in and held captive for the brief time that I was reading it.
I was fascinated by Drayton and his unique story.
I'm glad there are more books because I'm looking forward to reading them.
Drayton once believed he was a vampire. He doesn't know what he is. Or why he lives. He takes not his victim's blood but the silky essence of their soul during their last breath. Often mistaken for the Angel of Death, his victims sometimes ask for forgiveness. Sometimes he delivers. After all, he is not without sin.
JET: Oblivion
by Kim Cresswell
A short but great page turner with a superb plot.
Filled with non-stop action, it's an adventurous white-knuckle ride with dynamic characters as the drivers.
After a catastrophic terrorist attack at a nuclear plant in California, JET, Mossad's former deadliest operative, is leading a quiet life off the grid two-hundred-and-seventy miles away with her young daughter. But peace is short-lived when former FBI agent, Hal Decker, and ex-intelligence officer, Angela Donahue, track Jet down and blackmail her into helping them stop a new threat.
In a race against the clock the team must hunt down an al Qaeda terrorist cell working with the Sur del Calle cartel before a dirty bomb is smuggled out of Colombia and into the United States unleashing a deadlier attack at a second nuclear facility.
Bleed
by Dax Varley
An entertaining and surprisingly light-hearted book.
The plot was unique and interesting, with plenty of suspense and twists throughout the story to keep me engaged. Alongside the tension and creepiness, there were also some humourous moments.
The vivid descriptions let me watch the scenes play out in front of me
The book is written from several viewpoints and I got a good insight into each person's personality and their individual ability. Because of this I found it easy to like and care about each character.

LIFE IS A NIGHTMARE FOR Miranda Murphy. Without knowing when or why, blood oozes from her palms—an anomaly that makes her feel like a freak. But her abnormality is now the least of her worries. She's just enrolled at "Suicide High." Three deaths in three months—one occurring just days before her arrival.
When she bumps into a cute boy named Jake, things don't appear so glum. Especially since Jake's a psychic who can predict the immediate future. But his gift of sight can't prepare her for the horrors that await.
Through Jake, Miranda meets three other extraordinary students:
Topher – who can heal by touch.
Sam – who eats the sins of the dead.
And Xyan – who speaks and understands all languages.
It's then that Miranda learns the secret behind why she bleeds.
When it becomes evident that supernatural forces are at play, the five determined friends team up. Now it's up to them to destroy the evil that's infecting their school.
November Keys
by Michael & Brian Turner
Humour, magic, witchcraft, evil, crime, football, greed and a legendary tree mix well together in this book by Father and Son team, Michael and Brian Turner.
There's a lot going on in this story (maybe a bit too much), with jumps back and forth in time and a lot of characters to get know.
The duo have done a good job of creating an entertaining read, but be prepared to leave your disbelief behind when you open the book.
November Keys Inhabitant
"If we had known, we would not have sold the club. I admit we succumbed to greed but we did not realise we were putting our heritage at such risk. They did take the team to great heights but the consequences were disastrous."
American Gangster
"They asked for what they got. Did they seriously think that we were interested in some run down hick football club?"
November Keys Inhabitant
"Our benevolent buyers turned out to be ruthless. We had never experienced a murder in our village before. Not unless you include Cheryl's cooking."
American Gangster
"What did you expect? They had something I wanted. Something life changing. Do you think I was going to get it by playing peek a boo?"
November Keys Inhabitant
"Although we celebrated Harvesting Leaf Day and talked about the creatures in the tree, we did not actually expect to see them."
November Keys, a quaint village that was ready to sell its soul to the Devil for hastily promised riches. However, when the Devil buys he expects to collect. A very funny tale of greed, gangsters and things that go bump in the night.
Hell Is Coming
by N.P. Martin
An interesting and action-packed book.
The author has created a believable world populated by Nephilim, demons and more.
It was detailed, intriguing and kept up a good pace.
The main characters grew through the book and even the demons had their own varied personalities.
I enjoyed the book, however, it was like reading an episode of Supernatural but with Leia and her Uncle Frank as the main characters instead of Sam and Dean.
Leia Swanson has always believed in monsters, especially after one killed her parents when she was seven years old.
Now eighteen, Leia is being forced to confront those same monsters when they suddenly become part of her every day existence. Her life now turned upside down, she is drawn into a world of demons and the supernatural, where she must learn to fight for her life.
With help from an Uncle she never knew existed—one who harbours a dark secret concerning her mother—Leia must learn the ways of the Watcher's, an underground group tasked with controlling the dark supernatural forces that threaten to destroy the world of humans. To become what she needs to be, Leia must put her life and very soul on the line, forever changing who and what she is.
Hell is coming for Leia Swanson—and she must do more than just survive to keep her soul.
To Nowhere
by C.E. Wilson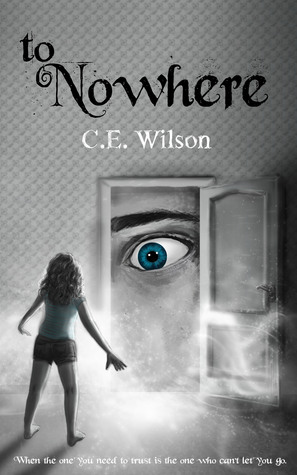 A quick read from C.E. Wilson.
The story was a bit slow to get going, but picked up pace after a while.
I liked that the storyline was original and creative, it was that and the small details that kept my attention.
However, apart from the giant, Brindt, who captures and takes cares of Lyris, I didn't find the other characters very likable, and at times I hoped they got what was coming to them.
Lyris was frustrating and annoying. She was too trusting at times and yet overly suspicious at others, and just as it seemed she was growing and making progress, she would suddenly revert back to her original spoilt self.
A world no one would believe.
From the moment Lyris is treated to coffee by a beautiful stranger, she has no idea that her life is about to change forever. In her enthusiasm to start at a new school with a new boyfriend, Lyris is almost able to look past his oddities.
Almost.
The way he eyes up her striking red hair.
The way he loves that she's seventeen. "The perfect age."
And the way he's gone from all but begging to show her a specific room in a specific house to making her swear never to even think about it again.
When Lyris doesn't take his strange warnings seriously, she finds that nothing could have prepared her for what lay behind that door.
Suddenly, Lyris finds herself in a world no one would believe. A world where she's only a few inches tall and giants aren't creatures from fairy tales. Where humans are no longer the dominant race, but pets auctioned off to the highest bidder. Lyris understands the true danger of such a place, but there seems to be one person on her side.
Her kind and surprised captor.
And while Brindt appears to be sweet and trustworthy, he also straddles the line between seeing her as an equal and a cute animal.
Lyris has to get home… before the one person can turn to becomes the one person who can't let her go.