The Exiled (The Exiled, #1)
by Scott Borgman
Never a dull moment in this book! There's always something happening.
Once you start reading, it's virtually impossible to put down.
The book is beautifully written. The storyline, the conflict between good and evil, is well thought out and has a sense of uncertainty and tension.
All the characters, both the good and the evil, are complex and alive. They each have their own individual personality.
An incredible story with a stunning ending. I can't wait to read book 2.
David doesn't believe in angels. He doesn't believe in the devil. What better place for the key to Lucifer's prison to hide than in someone who doesn't believe in any of that?
When Lucifer discovers where the key to his prison is located, he sets out to claim it. The only thing standing in his way: the Exiled. For ages, they've fought to keep Lucifer and those who stand beside him contained within the prison. It's a war between angels and fallen angels. Between Exiled and Imprisoned. Between brothers and sisters. And the Exiled are losing.
By a stroke of luck (or is it Fate?), Celeste and David cross paths, and the ongoing struggle to contain Lucifer takes a new turn as David discovers the world he has always known is not what it seems, that angels don't wear halos, and his lack of belief doesn't matter. Lucifer wants the key to his prison – and he'll stop at nothing to get it.
Celeste may be Exiled, but she's still an angel… still sworn to protect humanity – and that includes David. Protecting him from her Imprisoned brothers and sisters isn't her only problem, though. She's attracted to David like a moth to a flame, but angel Law strictly forbids any kind of intimate relationships with humans. Not even a single kiss is allowed. She knows why it's forbidden, but that's just a rumor…
'The Exiled' is the first book in a trilogy of Paranormal Romance novels and is intended for mature audiences.
Continuation (The Exiled, #2)
by Scott Borgman
Book 2 picks up some years after the end of book 1, with David and Celeste's daughter, Kaly, learning about her heritage the hard way.
God, Lucifer and the old gods are all back along with the addition of vampires and werewolves.
The combination of the different myths and beliefs was handled brilliantly and well explained.
Once again the story grabbed me on page one and didn't let go until the end of book three!
In my review of book one, I said "All the characters, both the good and the evil, are complex and alive. They each have their own individual personality."
This is still true in book two, and the new characters, especially Kaly and Cody developed and grew through the book.
This was an exceptional read, and I couldn't help but dig straight into book three
They thought it was over. They thought they had won. But you can't keep a determined devil down, and Lucifer's got something new up his demonic-looking armor. He's devious and calculating. He knows the rules – and this time, he's going to use them in his favor.
As the story speeds ahead through the years, Lucifer's plans begin to unfold. With the help of a shadowy ally, he manipulates the rules on a fateful night – the very night David and Celeste sit down to tell their daughter who she really is.
For 23 years, Kaly thought she was just a normal human being like everyone else. But when she becomes the target in Lucifer's newest attempt to escape his prison, the veil is lifted once more as she learns through frightful experience that her parents have secrets – and she's one of them.
They're out there… dark creatures of myth and legend that have been portrayed in movies and written about in books. But the monsters are real. They're coming for her. And this time, the angels are powerless to help. Lucifer's plan is flawless. His freedom from the prison is assured. No human will keep him from escaping this time.
It's going to take more than bullets to keep Lucifer contained… more than human determination, unexpected love, angelic defiance, or help from an old acquaintance with her own agenda. It's going to take something this world has never seen before.
'The Exiled: Continuation' is the second book in a trilogy of Paranormal Romance novels and is intended for mature audiences.
Infinity (The Exiled, #3)
by Scott Borgman
In book three we see a more 'human' side to Lucifer, as former enemies join forces to defeat their common enemy.
This book is set five years later than book two, but for me it was as though I'd never left and I was immediately captured by the story.
There aren't many books that make me cry, but I'm not ashamed to admit that I shed few tears during the ending of this story.
The trilogy as a whole is a roller coaster ride of emotions, as good battles evil and not everything is as black and white as it seems.
The three books were well written and rather than simply reading a story, you are drawn in and experience the action alongside the characters.
Although God and Lucifer, and heaven and hell, appear in these novels, they aren't 'religious' books and aren't at all preachy.
Scott Borgman is an amazing storyteller and the The Exiled Trilogy is an awesome read!
The angels have waited, knowing something is coming on the horizon. Something dark. But they don't know what. They don't know when. They only know it's coming. For five years, Kaly and Cody have waited as well. And in those five years, neither has aged a day. Such was the gift that was given to them.
He's plotted, planned, and studied each of his foes for ages. He knows their weaknesses. When he unleashes his fury upon them all, no one is prepared. Humans, angels, old gods… no one is safe. Chaos ensues and the death toll begins to rise.
As the angels fight to defend Heaven and the old gods battle for Olympus, Kaly makes a dangerous decision and ventures into Lucifer's prison, while Cody travels to Olympus in a desperate hope to find a way to stop an unstoppable foe. And while they seek answers – humanity faces the Apocalypse on Earth.
The veil will be torn away. Enemies will become allies to fight a common foe. You'll walk with uncle and niece into the darkest depths of humanity to discover how low we can sink… and how high we're capable of soaring. You'll fly with angels, stand with the old gods, and fight beside humanity in its most desperate hour.
The game draws to a close. Humans, angels, and olds gods face a foe that has planned everything so meticulously, there can only be one outcome: a stunning conclusion to The Exiled Trilogy that will last for Infinity.
'The Exiled: Infinity' is the third book in a trilogy of Paranormal Romance novels and is intended for mature audiences.
Hellbounce (The ARC Chronicles, #1)
by Matthew W. Harrill
An amazing story!
Join the 'forgettable' Madden and psychotherapist Eva Ross, helped along the way by Janus and the ARC, as they race against time to save mankind and stop the Apocalypse.
This well-paced and action-packed book grabs your attention and holds it to the last page and beyond. It's a great story with a well thought out plot. The graphically detailed descriptions don't just let you visualise the scene, they draw you in and make you a part of it. I loved being a part of this adventure.
The interesting and dimensional characters were strong, believable and easy to love… or hate.
I am very interested to see where the story takes me in the second book, Hellborne (less)
As a psychologist in a prison hospital, Eva Ross had always dealt with her share of sinners. The corrupt, the insane, their minds were all hers to unlock. But when those around her, those she trusted with her life start to exhibit the same characteristics, she is forced to turn to a stranger, a man whose name she is incapable of even remembering, for sanctuary.
Follow Eva as she crosses continents to unlock the answers, and her eventual destiny.
Hellbounce. Demons don't always hide in the dark.
Hellborne (The ARC Chronicles, #2)
by Matthew W. Harrill
Picking up where Hellbounce left off, the author delivers another amazing book in the trilogy.
As Madden and Eva marry and prepare for impending parenthood, all hell breaks loose…
this time, the demons are after the baby, and they're not the only ones!
It's hard to review Hellborne without revealing anything of the story, there is so much packed into the book. The characters are well fleshed out, and the vivid descriptions, once again, drew me in and kept a tight hold of me, right up to the end, and what an ending!
I need to read Hellbeast, NOW!
Heavily pregnant, Eva Scott finds herself challenged from all sides. Her husband Madden is not the man he was. Her mind is overburdened with the dreadful visions witnessed mere months before. Her new-found allies the ARC Council are prepared to turn against her unless she meets their demands. Above all, Eva feels she is being led on a path by a powerful, faceless forces, almost within touching distance, always in the shadows.
Join Eva as she battles against time to uncover the answers and seeks to find a safe haven to deliver her baby.
HELLBORNE: FOLLOW YOUR INSTINCT
The Dead Game
by Susanne Leist
Take a small coastal town, throw in some humans, human vampires, good vampires and evil vampires, mix them up so you're not sure who's who. Add some dark shadows, deadly creatures and an old, creepy haunted house, with steps and doors that appear and disappear.
Combine it all with murder, mystery, intrigue and a dash of romance… and you have The Dead Game
The vivid descriptions in this fast-paced, action-packed book, stick you right in the centre of the action alongside Linda, Todd and their friends. There are plenty of surprise along the way. Just as you think you have it figured out and all is well, the author throws in another twist.
The main characters, are for the most part, well-fleshed out, but disappointingly, some of the dialogue was stilted and unnatural.

The Dead Game takes place in a coastal town with sparkling blue waters. But are its waters truly harmless? Or is evil lurking beneath its soothing waves, ready to ensnare unsuspecting victims into its dark and murky depths?
Life changes in the remote town…as darkness falls on the picturesque streets, the ominous sounds of chanting linger on the whispering winds. It all begins with the mysterious invitation to a party at End House. It is not at all what they had expected. They find themselves trapped in a deserted house where they must flee for their lives through revolving rooms and a trick basement. Not knowing if their stalkers are shape-shifters or human, they must uncover the one controlling the game and everyone else in town.
The Guicai Talisman
by A.M. Griffin
You shouldn't judge a book by its cover, but most of us do, and I did with this book.
The cover of The Guicai Talisman reminds me of a comic book, which it certainly isn't and I'm glad I read it!
I enjoyed visiting the world created within its pages. A vividly described world inhabited by many paranormal creatures including witches, vampires and demons.
Babylonia (Baby) Delilah Jones works as a private investigator in the Undercity. She is determined to prove herself despite (or maybe because of) her half-human, half-paranormal status.
Baby is well developed, as is the cast of supporting characters.
I received an eCopy of The Guicai Talisman from Enchanted Book Promotions in exchange for an honest and unbiased review.
What does a woman have to do to prove she belongs in the Undercity? Sure, I'm unclassed and only half paranormal, but that doesn't mean I can't solve cases. Since the established PI's won't acknowledge my right to a territory, I'm taking jobs from whoever will hire me, doing what I do best…proving myself to be a bad-ass problem solver. Which is how I find myself breaking into Zaid's house, looking for a talisman my witch client says the very powerful vampire stole.
Now, I can make flowers grow, hear the wind's whispers and talk to animals, but I don't have the gift of seeing the future. If I did, I'd have known not to take this case. Because no matter the outcome, nothing good can come from messing with the Guicai Talisman, or it's far too gorgeous guardian.
Annalise's Up and Down Day
by Denise L. Jenne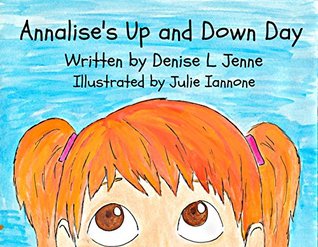 A wonderful little book for younger children, that takes them through the ups and downs of a day in Annalise's life.
I could easily imagine a series of books exploring different 'opposites'.
The writing was easy enough for young readers and the story short enough to keep them engaged.
(My grandson, aged 6, had no problem reading it)
The pictures didn't really appeal to me (or him), though!
I received an ecopy of Annalise's Up and Down Day from the author in exchange for an honest and unbiased review.
(less)
This is the story of one day in the life of three-year-old Annalise. It follows her, through her daily activities, adventures and misadventures on one summer day, as she explores the meaning of "up" and "down" in her world.
After Dad: Novel
by Ralph Cohen
A peculiar, but strangely compelling book, made up of a series of interlinked short stories.
The stories take us through the lives of four family members – a wife, two daughters and a son -following the death of their father ( & husband).
Margot and Jenny's stories are written in the first person, as is the wife's. Oddly though, Toby's story is written in the third person. The chapter about the funeral director, also written in the third person, seemed out of place.
The children all have emotional and moving stories in the years following their father's death, which at times made uncomfortable reading.
Although I felt involved with the girls stories, I didn't have the same connection with Ruth or Toby!
"He was always there for me," Jenny Kovacek says in the opening of the novel After Dad, and indeed, her father is such a charismatic force in the family that despite his untimely passing, he continues to have a dynamic impact on his survivors. Set mostly in Southern California during the tumultuous 1960s, Ralph Cohen's debut novel tells the stories of the man's three children and widow as they cope with their loss. Though missing, the father is never far from their minds, and during critical moments in their lives, he seems to reach out in various ways, from simple memories of touch and voice to artifacts left behind to a sense of his ongoing existence. How each of the family members responds to his lingering presence leads to results that are by turn comic, tragic and transformative. Two of the book's chapters appeared previously in literary magazines, The Connecticut Review and REAL.
Bed of Thornes
by Angel L. Woodz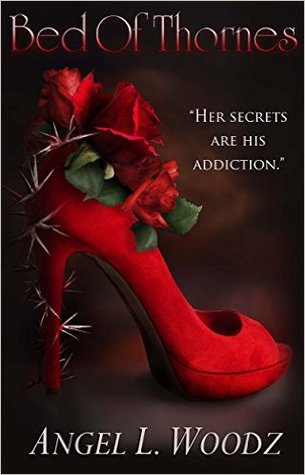 Veronica Thorne is nearing her 30th birthday. An established painter who is quite comfortable financially, owning an art gallery in Dallas, TX. She has never questioned who she is and what she wants in life, until now. Veronica has an addiction, one that she is losing all control of.
Adrian, younger and open-minded, becomes a part of her mysterious world of secrets. Each of them swirling in unknown desire-filled paths, not knowing where their lives will lead from this. One afraid, the other wanting to embrace the beauty of what they consider darkness.
Cohen, Ralph