Child of Blackwen
by Melanie Rodriguez
An amazing and intriguing start to a new series.
Melanie's descriptive writing pulled me into the wonderful world of Arrygn and dropped me in amongst the action. Arrygn is a fascinating place, with elves, vampires, witches, mages and much more.
The characters are dimensional and likeable, and I felt like I had made some new friends in Artemis, Jack and Shadow, to name just a few.
The book was well-written, kept up a good pace throughout and the ending had me heading straight into book two.
The epic fantasy novel Child of Blackwen is a coming-of-age adventure story about the young dhampir Artemis in the mystical world of Arrygn.
Born of a human and a vampire, Artemis was raised among the elves of Ellewynth by her mother's friends Shadow, an elven soldier, and Talisa, a witch. An outcast in elven society, Artemis is protected by the Elders of the Woodland Realm because her mother, the vampire Tamina Ravenwing, once served them. As Artemis struggles to overcome prejudice, she must also learn to control her innate thirst for blood. Her efforts are made all the more difficult when Shadow and Talisa are called to serve in the eight-year-long war against the dragons.
Just after they return, Artemis begins dreaming her mother's memories, only to discover that her guardians are plagued with the same dreams. This, along with the mysterious murders in the Woodland Realm, leads Artemis to learn the shocking truth about her mother's death: the unsavory woman in the dreams is none other than Tamina's younger sister, Arlina.
Artemis poses a threat to the madwoman Arlina, usurper of the throne of Blackwen City—and the vampire will stop at nothing to eliminate the threat.

Mistress of Blackwen
by Melanie Rodriguez
The second book in the Artemis Ravenwing series picks up where the first book finished and I enjoyed this book as much as I did the first.
All my friends from part one of the story were back and their characters continued to develop as we resumed the adventurous journey to Blackwen City, begun in the previous book, and struggled against the threats posed by enemies old and new.
I am looking forward to, and will definitely be reading, the next installment of this series.
Artemis Ravenwing, a dhampir and rightful heir to the throne of Blackwen City, struggles to accept her dark heritage as she plots to confront Arlina—a blood relative who murdered Artemis' mother to usurp the title of Mistress of Blackwen.
Along with friends like Shadow, an elf and former soldier of Ellewynth, and Talisa, a witch and longtime vassal of the water goddess of Arrygn, Artemis heads to Westyron—a human-run city with a deep hatred of those outside their own race. But lying in wait for Artemis' arrival is Arlina herself…as well as Gavin, the former human who fathered Artemis.
Lurking in the shadows behind it all is the specter of Tamina, Artemis' full-blood mother. Keenly aware of the connection she has to her old pair of dragon-jeweled sai, she has a revenge-fueled agenda of her own for the power struggle taking place. But who will prevail?
A rich coming-of-age tale, the second installment of the Artemis Ravenwing series beautifully explores the strength of friendship and the dangers of revenge.
Wolf Moon
by C.D. Gorri
I enjoyed this fast-paced and gripping story. The detailed descriptions drew me into Grazi's world and didn't let go.
There were plenty of twists and turns to keep me guessing, and turning the pages.
The author did an amazing job of describing both the physical and emotional changes that Grazi goes through as she comes to terms with her new life as a werewolf, as well as dealing with the everyday problems of being a teenager. Grazi is written in such a way that she is easy to like and to root for.
The supporting characters were also well-fleshed out, and believable.
I found myself on a par with Grazi, at times, as I wanted answers to the same questions as she was asking. Some of which were still unanswered at the end of the book.
Not a problem though as I moved straight on to book 2, Hunter Moon..
"Hi. My name is Grazi Kelly. There are things I know are true and things that I never would have guessed. First, demons and witches exist and they are evil. Second, the world is up for grabs and the witches are getting their minions ready. Third, I'm a werewolf and it's my job to stop them."
High school sophomore Grazi Kelly leads an ordinary life in the suburbs of New Jersey helping her grandmother with chores and attending Catholic school. Things are pretty good except for her bullying cousin and the rest of the obnoxious cheer team. Then things take a frightening turn when the night of the full moon arrives and the bodies start piling up. Grazi learns that she is different in ways she never expected. She finds herself torn between Sebastian, the school soccer star and Ronan, a foreign exchange student who shares her secret. She must uncover the identity behind the mysterious attacker, but is she ready for the entire truth?

Hunter Moon
by C.D. Gorri
Hunter Moon carries on from where Wolf Moon ended and within the first few minutes of reading, the detailed writing carried me back into Grazi's world.
I joined Grazi and the cast of fleshed out supporting characters as they continue to battle the dark and dangerous supernatural forces. The characters making a return in this second installment continue to grow and Grazi starts to come to terms with her destiny.
The slowly developing attraction between Grazi and Ronan is unrushed and, therefore, believable.
At the end of this book, I was ready for book three of the series.
Being a teenage girl is difficult. Being a teenage Werewolf is almost impossible. A few weeks ago I found out that I'm a Werewolf. Yup, that's right. I tend to get furry around the full moon. Don't believe me? Well, it only gets more fantastic from here.
You see, I'm bound by an ancient pact my ancestors made to serve with the Hounds of God. They're like this mega Wolf pack who technically work for the Catholic Church. The Hounds have been fighting an age old battle against covens of Witches who want to claim dominion over the Earth for the Devil.
You heard me correctly. I mean the actual Devil, you know, Lucifer, the Father of Lies. Yup. That's the one. You see, the Devil, is an actual being. Not some metaphor for evil. He is a fallen angel and his minions take many forms. The Hounds of God fight those minions. We are an ancient order dedicated to protecting humanity.
My father before me was a Hound. He and my mother died fighting this battle when I was about three years old. I keep a picture of them next to my bed.
I don't remember that much about them, except for this recurring dream I have of my mom. Anyway, I was raised by my maternal grandmother, Nonna Rosa. Her son is my Uncle Vito. He and his family live with us too. Only Nonna knows the truth about me.
Hard to believe? You betcha. I didn't really buy it either until last night when I got all furry and fangy and ripped the throat out of my high school librarian.
Scary, right? But they aren't the only things out there. There's much more that I have yet to learn.
This world is new to me. It is full of dark and dangerous things. And most of them seem to want me dead. I'm scared, I mean, I'm not crazy. But I have to survive. I just have to. To find out what really happened to my parents. And to avenge them.
Rebel Moon
by C.D. Gorri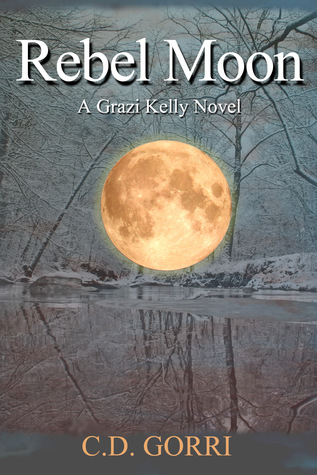 Rebel Moon seamlessly picks up where Hunter Moon left off, and once again I was whisked away to a world of werewolves, vampires, witches and demons.
I don't know what to say about this book, that I haven't already said about books one and two…
It's well-written. It cracks along at a good pace. The characters are multi-dimensional and believable.
The detailed descriptions let you join Grazi and her friends in her world.
Book four is waiting for me 🙂
"From school nerd to Werewolf girl. It was quite a change after all. I ran hard for all those changes, all my mixed feelings. I could do little but accept them. They were a part of me now.
There were some things I knew could never change. For example, I was a teenager and would be for the next few years anyway. I was also a Werewolf and as far as I knew that was forever.
Witches had messed with nature and thrown it completely off balance. A demon with an angel's face wanted me as his bride. And a more powerful demon wanted to escape Hell and rule the Earth.
Nonna was in danger of losing her home to the IRS. Julianna hated me more than ever because for a while Sebby actually liked me. I was lying to my best friend Angela about what I was.
But none of that seemed as important as this one unchangeable fact. I was in love with Ronan…"
Join teenage Werewolf Grazi Kelly as she continues to battle evil in this third installment of her series. Will she get closer to solving the mystery of what happened to her parents? Will she find out what it means to truly be part of a Wolf Pack? Will she find true love? Find out in Rebel Moon.

Winter Moon
by C.D. Gorri
I have read books 1 to 4 of the Grazi Kelly series and have thoroughly enjoyed each of the books.
Thanks to C.D. Gorri's descriptive writing, I have got to know the characters very well and feel as though I have been beside them on every step of their journey.
I am going to miss them and will be waiting (im)patiently for the next installment.
"It was difficult to remember the girl I used to be when my Wolf instincts were at the forefront as they were now. I closed my eyes and counted backwards. A little calming technique Cara had told me in one of the rare moments during our training when she was not out for my blood. It was a useful tool. When I opened my eyes I could think more clearly. The footsteps were closer and any second their bearers would break from the stand of trees into the small clearing where I was being held.
I braced myself, but nothing could have prepared me for the sight that came next. Angela's fiery red hair broke through the tree line followed by a tall mystery guy with dark hair and a limp Wolf in his arms. I knew that Wolf. It was Ronan.
It's St. Lucy's Day and the battle has begun! With her friends by her side, Maria Graziana Kelly has more than enough fire power to fight the Demon minions. But will she be able to reunite with her one true love? Will Grazi find out what it really means to be a Werewolf? Can she save her brother before it's too late? Find out in Winter Moon!
Have You Seen This Girl?
by Carissa Ann Lynch
By the time I'd read the prologue, I was gripped by this tense and dark read that kept me on the edge of my seat. It was a well written and suspenseful story, that moved along at a good pace.
It was a book of two halves. In the first half, we follow a naive and young girl as she makes bad choices and is led astray by a friend. The second part of the book, as Wendi goes looking for revenge, is a tense thriller with enough twists and turns to keep you guessing,
I liked that it was written in the first person, as it allowed more insight into Wedi's thoughts and actions.
Have You Seen This Girl? is the first in a series of books, but with the story being rounded off nicely by the epilogue, it works very well as a stand-alone.
Wendi Wise is a troubled young woman who snorts her breakfast through a straw and spends more time in rehab than in the real world…
Her life is seemingly out of control.
But now she has a plan.
That plan involves a sharp set of butcher knives.
She's going back to where all of her troubles began…
Flocksdale.
Wendi was lured away from a local skating rink, at the age of thirteen, and held captive in a place she calls 'The House of Horrors.' Dumped off blindfolded on the side of a dirt road, Wendi soon discovered that she was addicted to the drugs they fed her while she was captive.
Too scared to go home, and having a new habit to deal with, she hopped on a bus, vanishing from the family she loved.
Vanishing from Flocksdale…
The town of Flocksdale is littered with fliers with a grainy image of young Wendi, and the words 'Have You Seen This Girl?' written below.
Now, eight years later, she's on a mission—a mission to find the mysterious house from her youth and the monsters who dwell inside it.
"This is the end, beautiful friend, the end…"

House of the Lost Girls
by Carissa Ann Lynch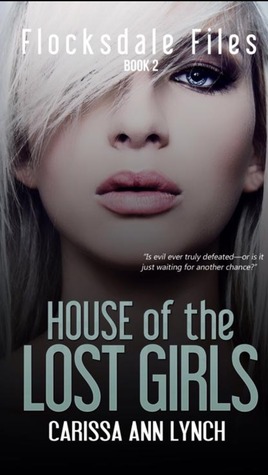 Having read book one of the series, I did wonder how the author could move the story forward, but as book 2 is set 20 years later that wasn't a problem. The book was full of suspense, action, and surprises, which kept me turning the pages.
I could easily visualise the streets and buildings of Flocksdale, the same gloomy town that featured in book one.
Once again it is written in the first person which allows you to see things from Marianna's point of view and feel what she's feeling. As Marianna and her family move into the old creepy house of horrors, the evil that surrounds the inhabitants of Flocksdale rears it's ugly head once again.
I liked that Wendi, (the missing girl in book one) was reintroduced in this one and was there to help, when everyone Marianne thought she knew turned against her.
Is evil ever truly defeated—or is it just waiting for another chance?
Seventeen year old Marianna Bertagnoli is miserable…
Not only did her father abandon her five years ago, now she's being uprooted and forced to move with her mother and new stepdad to a creepy Victorian house they inherited in the even creepier town of Flocksdale.
Flocksdale has an evil, ugly past—and history has a way of repeating itself…
Marianna notices some strange qualities about her new home, and soon realizes she's living in none other than the infamous House of Horrors. That's right, the very house where the demented Garrett family ran a drug ring, leading to the kidnappings and murders of forty young girls.
The dark energy of the town begins to rise again…
Within a week of moving in, Marianna's mother disappears, one of her small group of new friends is found murdered, and she's attacked by a man wearing a hideous clown mask. As she searches for answers, Marianna wonders if the malevolence still lingers, somehow alive…and how her stepdad came to own the House of Horrors.
Unsure who to trust, Marianna turns to Wendi Wise, a survivor of the Garretts' crimes…
Caught up in twisted family ties and surrounded by deceit, Marianna is targeted by a new generation of evil. Doubly imprisoned—in her own body and in the real house of the lost girls—Marianna needs Wendi's help to unravel the bizarre history of Flocksdale.
But will Marianna survive long enough to bring the evil to light…or will she be trapped in the house of the lost girls forever?
Carnival of Dead Girls
by Carissa Ann Lynch
Although the three books in this series work as standalone stories I would advise reading them in order to get the best out of them, as details and some characters from the previous books are carried forward.
This, the third and final book in the series is as chilling and atmospheric as the other two. I liked the creepy carnival setting of this novel, that and the haunted house, added to the darkness of this book. I also enjoyed the fact that Wendi (books 1&2) & Marianna (book 2) are back to save the day.
My favourite book of the three was House of the Lost Girls, but they were all well-written and had me hooked.
Nothing interesting happens in the podunk town of Lamison Point—until a freak show rolls through…
When a traveling carnival stops in the sleepy countryside, sixteen-year-old Josie Crowley is psyched to go with her new friend, Freya. But what started out as a fun-filled night of games, candied apples, and ferris wheel rides quickly spirals into a gut-wrenching encounter with one of the carnival attractions.
Once the excitement is over, Lamison is missing one of its residents…
When Freya is nowhere to be found, Josie suspects the carnival has something to do with her disappearance. Her goal to track down the elusive show leads to an alarming revelation—there is no record of it ever existing. And as she digs deeper, Josie is led to a mysterious town with a tainted past—Flocksdale.
Buried in Flocksdale's sick, twisted history is where Josie may find the truth…
Creepy clowns, disfigured freaks, and a terrifying haunted house are the least of Josie's problems…now she has to deal with a group of real-life monsters, otherwise known as the evil Garrett family and new, rising generation of hell-bound freaks.
If Josie is pulled into their world, she may become another member of a carnival of dead girls, where she goes in, and never comes out…

Witches: Tea Party
by Mark Taylor
Although this first book of a new series is only short, Mark Taylor packs an awful lot of story into it.
This dark and suspenseful story had me on tenterhooks, wondering whether Mary and the witches coven she joined, could achieve their goals.
Despite the darkness of the story, there were moments of lightness and humour.
The characters were well-developed, and I became quite attached to the witches. I hope it won't be too long before the next book is ready and I can catch up them again.
I was gifted an Ecopy of Witches: Tea Party from the publisher – no review required.
In Salem, 1692, Marie-Anne witnessed the death of her friend and confidant, Sarah Good. Charged with being a witch, Sarah goes to the gallows to protect Marie-Anne, a true witch.
Three hundred years later, Marie-Anne, under the name Mary Anson, vows to put things right.
With a new coven – Dina, Excalibur, and Lady – Mary puts in motion the steps to right what went wrong…and what followers is a chase across the country, a chase against time, pursued by monsters and darkness…
…will Mary put things right?
…or will she die trying?
Hell is Empty and All the Devils Are Here
by Mark Rounds 
This book was a great beginning to what should turn out to be a great series. It is well-written and
perfectly paced.
The plotline of a virus being manufactured and dispersed by an unknown organisation is conceivable, but hopefully not in my lifetime. The plague, how it spreads, the attempts to stop it and the inevitable collapse of society is disturbingly realistic, although the control of the infected leans towards the paranormal.
The characters behave and react in a believable way, as they learn to work together to survive and fight against the infected population.
I am looking forward to the second book, and finding out what happens next.
I received an eCopy of Hell is Empty and All the Devils Are Here from Mark Rounds in exchange for an honest and unbiased review.
"Hell is Empty and All the Devils Are Here" is the story of Chad Strickland, his family and friends as they try to survive the onslaught of a virulent plague. The setting is in the near future in Central Washington. Chad and Mary Strickland, along with their neighbors, Dave Tippet and Heather Tunney band together to protect their children and their way of life. Along the way, Chris Vaughn and Amber Hoskins join their group as they are hounded out of their homes and forced to go on the road to escape a gang of infected bikers led by Special Agent Macklin who is in turn part of a bigger plot to over throw the US Government and take control.

I read a few more books this month than listed here, but as I was offline for a week I haven't caught up with my reviews, so they will be added to March's Round-Up