BloodLoss: A Fraktioneer Novella
by Lu J. Whitley
This short prequel to BloodMarked, is another quick and easy, fast-paced page-turner.
The authors' descriptive writing, once again, pulled me into the story and kept me captivated.
I enjoyed finding out more about Jaromir and Stein, how they met and the reason behind their close relationship.
I hope I don't have too long to wait, for another book from Lu J Whitley.
Join your favorite Book Boyfriends, Jaromir Ragnarsson & the ever-wonderful Stein, nearly 400 years before the events of BloodMarked (The Fraktioneers #1) in this all new prequel novella!
Cursed to live in the shadows, Jaromir Ragnarsson wanders the world, searching for a sign. What he finds wasn't exactly what he had in mind.
Nearly four hundred-fifty years after a fateful meeting with a Wyrd woman changes his life, Jaromir is no longer alone. His adoptive son is the light of his long life, and he believes he will do anything to keep him safe.
When that belief is tested, will he have the strength to do what is necessary?
Even if, no matter what he chooses, he loses?
View From the Sixth Floor: An Oswald Tale
by Elizabeth Horton-Newton
A fascinating and unique take on an unforgettable event in American history.
The book is as much a romance as it is a thriller. It's well-written and the story ticks along at a steady pace.
The main characters of the story, Olivia and Bill, are believable and make a great couple. It was refreshing to read a book in which the protagonists were older than I am!
The book is written in the first person and after a page or two, I felt like Olivia was telling her story to me personally and from that moment on I was hooked on this interesting and enjoyable read!
This romantic thriller takes a fictional "what if" look at the JFK assassination. Suppose accused assassin Lee Harvey Oswald had lived to defend himself. Imagine if 50 years after the assassination someone stepped forward to reveal the truth of what happened that day. What if the assassination was a conspiracy and the impact of those revelations reached into the 21st century? This is the story of ordinary people caught up in extraordinary events. You'll never look at your neighbors the same way.
Love, Vampire Style: A COLONY Series Paranormal Romance Collection
by Regina Morris
These books have a nice twist on vampires, romance and the Secret Service.
Each book focuses on a different couple, but involves all the other members of The Colony, as well as solving a crime or two.
We get to know the couple as individuals as well as how they fit together.
The books a well-written and enjoyable to read, they aren't fluffy and sparkly, but they aren't gore-filled either. The author does a great job of grabbing your interest and keeping it right up to the last page and beyond.
The characters are dimensional and they all have their own voice and personality. I enjoyed the 'family' life of the Colony and feel as though I have made some good friends while reading the first three books of the series and I'm looking forward to continuing with the rest of the books.
A covert team of sexy vampires protect the President of the United States. This sensual paranormal romance collection contains the first three novels of the COLONY Series by author Regina Morris. The novels are: "Eternal Service", "United Service", and "Enduring Service."
The COLONY Series is a suspenseful and sensual vampire fiction series that has earned five star reviews from fans of some of the best paranormal romance series like "Love at Stake", the Argeneau series, and the "Black Dagger Brotherhood."
The Weight of Light: Book 1 of the Grigori Celestials
by A. J. James
The Weight of Light is an interesting and thought-provoking read. It is, in equal measures, sensual and spiritual
A.J. James has a way of writing that is both lyrical and informative.
The vivid descriptions and the depth of emotion of the characters brought the story to life and kept me involved from start to finish.
The carnal appetites of the disgraced warrior Watcher Angels devastated the world many millennia ago – inviting a deadly chaos into our world and carving a bloody, brutal stain into human history. And an extraordinary love that dares to transcend the boundaries of time.
Arma'ros is one of the first Watcher Angels to fall at the dawn of the human race. His fierce, unsanctioned love for one human woman leaves him tormented by his separation from Divine grace. Determined to repair the damage he and others like him have wrought upon our Earth, he vows to protect those affected by their actions – even if it means defying Divine Law.
Zoe is a cursed woman. She has a talent no other being on Earth possesses – the ability to sense and track down the feared Nephilim, the dangerous and typically diabolical offspring of the Watchers. Her dubious gift has made her a vulnerable target, attracting the deadly attentions of the Dark Celestials.
An agonizing past must be retraced to expose startling revelations – joy, pain, loss, and secret, twisted agendas of Celestials and humans, concealed since the beginning of time. Together, Zoe and Arma'ros must locate both the Watchers and Nephilim still left and the last Enochian Key to prevent them from falling into the enemy's grasp. . . a Key that will either unlock the Song of limitless Divine Creation for humans – or unleash the complete and utter annihilation of our Earth.

Charley's Christmas Wolf: A Macconwood Pack Novella
by C.D. Gorri
This quick and easy read grabbed my attention on page one and kept it to the end.
C.D. Gorri packed a lot into this short introduction to her new book series.
Her main characters were well-developed and complex, and I can't wait to read the next book to find out what happens next.
I received an ARC of Charley's Christmas Wolf from C.D. Gorri in exchange for an honest and unbiased review.
Rafe Maccon is the Alpha of the Macconwood Pack, for now. His rule is being questioned by a rogue Wolf who wants him ousted for breaking an ancient law that states the Alpha must be mated!
He must find a mate in order to keep his position. Seeing their Alpha in trouble, Rafe's Wolf Guard take it upon themselves to find one for him.
Charley Palmieri works a dead end job and lives alone with her cat until one night when her world is changed forever.
Instant attraction sparks between them. Can Rafe convince Charley to be his before the meeting of Pack elders on Christmas Eve? Will she be his one true mate, for life?
What Once Went Wrong
by T.E. Hodden
Written from the point of view of a man with six months to live this is a bittersweet and emotional read.
It's wonderfully written, and despite the subject matter, or maybe because of it, it's a 'feel good book' and I enjoyed the moving story of love and friendship.
There is a wonderful cast of multi-faceted characters all of whom add something to George's life and the story.
George has just six months to live, and no chance of a happy ever after. At least not for himself. When he is advised to make his time count, George makes it his mission to offer others their own Happy Ever After. Three ex girlfriends, and the best friend he has never met, are about to have their lives changed forever.
He has one hundred and eighty two days to die.
He has one life left to live.

The Human Condition
by Mark Taylor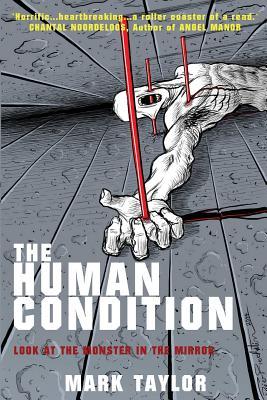 A great collection of disturbing and well written short stories.
Each story is different, but they are all dark and foreboding.
The author describes perfectly the horrific and unique, but plausible, lengths that each character will go to, to achieve their goals.
Take a good look at yourself in the mirror. Ask yourself what you are truly capable of. Don't lie…your reflection will know. The Human Condition is about the deepest, darkest part of the human mind-that part of us we suppress. But what if…just for a moment…we let the maladjusted you out to play? Would you be capable of the demented? Of maniacal, deranged violence? This collection of macabre short stories will have you on the edge of your seat as you come to realize you are not that different from the monsters in these tales…the ones hiding in polite society…the one in the mirror.
Awethology Light
by The #Awethors
This is the second anthology I've read from the #Awethors, and once again, all the stories are well-written and kept me interested.
I find most anthologies are a great way to find new authors, and this book is no exception.
Keanan Brand and Amelia Mapstone are just two of the authors that I will be looking to read more books by.
Although hard to pick just a few out of this book of awesome stories, my favourites, in no particular order were:
Enchantments by Claire Plaisted
Seven Years by Amelia Mapstone
and
Kristen – Witch Hunter by K S Marsden
Because one voice in your head isn't enough, here are so many more, as the Awethors chime together with our vast collection of stories and poetry to make you laugh, make you cry and make you feel alive.
We are the Awethors and these are our words to you.

Beyond the Storm
by Adam Jones
I enjoyed this dark and suspenseful post-apocalyptic/horror.
The multiple storylines were easy to follow, and merged at different points through the books. The main characters were, for the most part, dimensional and interesting.
The plot was believable and well thought out.
The graphic descriptions mean the book is not for the faint-hearted.
I received an ecopy of Beyond the Storm from the author in exchange for an honest and unbiased review.
Man tries to remember his past while Jude tries to forget hers.
Years after the nuclear holocaust decimated Britain, Man wakes up, naked and alone but for the murdered corpses whch surround him. Struggling with amnesia, Man travels the wastes trying to piece together his past.
Across the crumbling remains of the city, Jude flees a depraved fiend, running for her life. Beyond the Storm is a journey of horror and suspense which paints a broken future world and the events that made it that way.
The Pharaoh's Cat
by Maria Luisa Lang
This unusual, quirky and light-hearted tale is told from the point of view of Wrappa-Hamen, a cat and is set mostly in ancient Egypt.
It's a quick and easy read, with some humourous scenes, though I followed the story as a bystander rather than feeling involved.
The characters weren't particularly complex and would have benefitted from some fleshing out, the exception to this was Wrappa_Hamen, who's personality developed over the course of the story.
I received a copy/an eCopy of The Pharaoh's Cat from the author in exchange for an honest and unbiased review.
The Pharaoh's Cat, narrated in the present tense by the cat himself, is the story of a free-spirited, quick-witted stray in ancient Egypt who suddenly finds himself with human powers joined to his feline nature.
The cat immediately captures the attention of the seventeen-year-old Pharaoh, making him laugh for the first time since his parents' death, and is brought to live with him at the royal palace.
The cat also becomes friends with the High Priest of the god Amun-Ra and seeks his help in solving the mystery of his human powers and the supernatural manifestations that later plague him. He has an enemy in the Vizier—the Pharaoh's uncle and the second most powerful man in Egypt. The Vizier hates him for himself and even more for his relationship with the Pharaoh.
The cat participates in festivities at the royal palace, developing an insatiable appetite for good food, wine, and gossip. He later accompanies the Pharaoh on a trip through his kingdom, all the while renewing the Pharaoh's ability to enjoy life and inspiring him to become a stronger leader.
Between the cat and the Pharaoh a bond of love gradually forms which will determine Egypt's destiny.
The Pharaoh's Cat imaginatively blends Egyptology with comedy, drama, and even time travel–the cat and the High Priest will meet Elena, a resident of the twenty-first century and the daughter of a renowned Egyptologist.

Who Killed Randy Ratphink?: The Postmortem Adventures of a Fried-Brain Hippie!
by Jerry Flu
Written in the first person, by the late Randy Ratphink, this book takes a light-hearted look back through his life, as well as his time in the after-life.
The book was well-written, detailed and descriptive, and we meet a variety of weird and unpredictable characters as Randy tries to discover his murderer.
Although it was an interesting and, at times, humorous read, I found it to be more of a fictional autobiography than a murder mystery.
JA paranormal cozy mystery. Randy Ratphink, baby boomer cum geezer boomer, flower-power fossil, way-past-never-trust-anyone-over-thirty sexagenarian suddenly finds himself dead—murdered—and his spirit won't rest until he discovers whodunit!
From his postmortem perch in the astral plain Randy's life flashes before him like a Piggly Wiggly surveillance video. Determined to seek out his killer and avenge his murder before he moves into the shining white light, Randy Googles his memories for clues and suspects from his hippie days in the Haight to his present predicament.
But it's only when he discovers that the identity of his murderer is none other than … well it wouldn't be much of a mystery if you found out whodunit just yet, would it? So why not begin reading now, and find out for yourself Who Killed Randy Ratphink?