Book:
 Fall of the Walker King (Walking Between Worlds, Book III)
Genre:
 Contemporary/Philosophical Fantasy
Release Date:
 December 1st, 2015
Some warriors have a special sensitivity, a rare compassion that makes them the perfect soldier for the perfect army. In life, these men and women are superlative fighters and law officers. In life, they often discover that their instinct for justice hinders or destroys their career in a sometimes imperfect army. In life, these souls are bent and broken by bureaucracy. It is not until death touches them that these unique warriors truly come alive. They become Walkers, immortal soldiers in an eternal army that wages constant war on the demons of humanity.

In the Walking Between Worlds trilogy and companion tales, the world of the Walker is finally revealed. Heroes that have lived in the shadows for thousands of years tell their stories at last, as a new story takes shape in present-day San Francisco. A new Walker is made that must undo centuries of damage as he risks everything in a desperate search for his lost love. One man must forge a path wide enough for everyone who walks between worlds, or see the way of the Walker lost forever.
The angels in heaven have capitalized on the situation rather than correct it, and the dragons in hell rule their realm with fire. Both forces stand against the Walker army as its new king is thrust into power and cast into danger time and again. From epic battles below to all-out war above, these brave patriots of the universe put everything on the line to save an unknowing world once more. If anyone can find a way, it is them . . . but time is running out, and the light is growing dim . . .
Meet the unsung heroes of the supernatural, those who walk between worlds to help humans battle their demons. This is the spellbinding tale of a special group of people whose lives were changed forever when their eyes were opened to a new reality. Watch the ordinary collide with the extraordinary to test the mettle of their souls and the power of their love.
The first book in an exciting new series, Walking Between Worlds; Book I: Demons & Angels introduces us to a new way of looking at both the natural and the supernatural worlds. Join Paul Stone and Kris Reed as they walk between worlds in search of answers and themselves.
Book II – Rise of the Walker King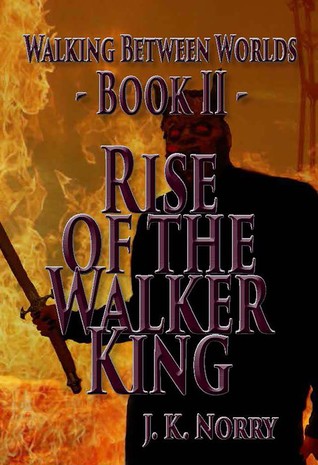 Step once again into the lives of Walker Paul and his trusted Guide Kris as they delve deeper into the meaning of walking between worlds and battling people's demons.

Walking Between Worlds; Book II: Rise of the Walker King continues the exciting saga begun in Book I. Now that the king has risen to power, he must look within and without for answers to save both himself and the Walker's world.
With friendly devils and murderous angels, dragons that belch flames and demons that run like a river, this philosophical fantasy will delight the adventurous spirit that walks between worlds in all of us.
Book III – Fall of the Walker King
Walking Between Worlds, Book III: Fall of the Walker King brings the Walking Between Worlds trilogy to a breathtaking and explosive conclusion. Walk alongside characters old and new as they navigate Hellish realms where blood rains from the sky, and Heavenly worlds that would imprison or destroy their very souls.
As war looms above and violence simmers below, a dark danger is lurking between worlds that threatens every realm. A new Walker struggles to fulfill his destiny while the old fight for their very lives. With the fate of all the worlds in the balance, a new way must form to take the place of the old as everything falls away. Yet it must be enough, and it must come in time . . .

Jay Norry is the author of Stumbling Backasswards into the Light, a spiritual autobiographical novel set in the mountains of the Puget Sound, and Walking Between Worlds (as J.K. Norry), a fantasy series set in San Francisco. He is the owner of Sudden Insight Publishing, an indie publishing company he founded in 2014 as a venue in which to publish his books. In 2016, Jay will join the Underground Book Reviews (www.undergroundbookreviews.org) team as a monthly columnist (Norry's Toolbox) and indie book reviewer.
Currently Jay resides in Northern California with his girlfriend/Girl Friday, Dawn, and their dogs, Mammoth & Ximena. When he's not busy writing, Jay enjoys wine tasting, gardening, coming up with new DIY projects, and fixing things around the house MacGyver-style.
Jay's books are published by Sudden Insight Publishing (www.suddeninsightpublishing.com)
Read his blog on spirituality, writing, and life in general at blog.jaynorry.com
Connect with Jay/J.K. Norry
Demons & Angels (Walking Between Worlds, Book I)
 The alarm clock was going off, a high-pitched grating pulse of sound echoing loudly off the walls. It had been going off for a while, but the shapeless form huddled under the covers made no move to silence it.
It was a small room, dirty and messy at the same time. There was an ashtray on every surface; the nightstand, the dresser, the mismatched speakers that cluttered each corner. Every ashtray was full, overflowing with cigarette butts and half-smoked joints. Posters and tapestries decorated the walls in a random rock theme that spanned the decades. The white walls were yellowed with age and smoke, cobwebs wisping where they met the ceiling.
Against one wall was an electric guitar on an upright stand, the only thing in the room that didn't look like junk, a dark blue Fender Stratocaster. A black cord trailed from its snug housing in the body of the guitar to a knee-high amplifier sitting nearby. Another ashtray sat on the amp, a dusting of ashes all around it. A small television was housed in a beat up oak entertainment center whose remaining shelves were dominated by long tangles of guitar pedals and extension cords, open empty compact disc cases and a haphazard teetering stack of old vinyl.
A steady rhythmic pounding joined the blare of the alarm clock, and a voice shouted muffled through the wall. The thin sheetrock shook with the force of the pounding.
The covers stirred, an arm reached out from beneath them and silenced the alarm. Mason threw the covers off and rolled out of bed, his feet clumsily finding the floor. He sat on the edge of the mattress for a long moment, elbows on his knees and his face buried in his hands. Heaving a sigh, he peeked a look at the digital face of the alarm clock. He cursed.
Then he was a flurry of action, dressing himself frantically in jeans and sweatshirt. One moment sitting still in boxers and a stained tank top, his mussed longish hair askew in every direction; the next he was up and moving, opening and closing dresser drawers and tripping through piles of soiled clothes on the floor. Two doorways cut the wall opposite the entrance into thirds, one a doorless passage into his small excuse for a kitchen and the other a door open to the cramped bathroom. Dashing in and out of the open door, he emerged first with his hair wet and flattened to his head, then with a toothbrush sticking from his mouth, then with a hand towel he held cautiously to his dripping face. He crinkled his nose in distaste and threw it to the floor. Wiping droplets of water from his skin with the sleeve of his sweatshirt, Mason worked his feet into his sneakers and bent to tie the darkened laces.
On his way out the door, he stopped at an ashtray and pulled two half-smoked joints from the ugly collection of twisted stained tan speckled filters. A smashed cigarette butt fell from the ashtray to roll onto the speaker and from there to the stiff carpet below. Mason didn't bother to pick it up. He put one joint in his pocket and one between his lips and walked out the front door.
 Paul pushed his way through the swinging steeled glass into the coffee shop. The jangle of the bell hanging over the door announced his arrival, and he stopped a moment just inside the entrance to gaze about the room. A wave of aroma greeted him, the warm welcome smell of fresh brewed coffee tickling his nostrils pleasantly.
The place was huge, especially considering how many customers frequented the spot. Longer than it was wide, the single room was wide enough yet for four tables, the coffee bar and aisles between all of them. A paneled wooden island on a sea of hardwood floor, the coffee bar was long and narrow, twin counters mirroring each other with matted work space between. Two people behind the bar would have trouble passing without touching, but the length of it would let three or four people move about freely. Stools were placed along the length of the bar for customers, steel and vinyl and old and currently unoccupied. The island was closed at one end by a cash register facing the entrance and a swinging waist-high door at the opposite end. A slab of counter on hinges served as horizontal barrier above the thin swinging door. Sturdy wooden tables were placed almost randomly about the open hardwood floor. There were less than twenty, though the space could have easily held twice that. Only three were occupied, less than half a dozen customers in the whole place.
Paul approached the register as the girl behind the counter turned to see who had come in. She smiled, a pretty sweet smile under pretty honeyed blonde hair and pretty bright blue eyes.
"Good morning, Paul," she said. "White mocha?"
"Morning, Jessica," Paul smiled back. "Yes, please."
"Brenna's here," Jessica inclined her head toward a table in the back while she rung up his order. "Anything to eat?"
"Yeah, a blueberry muffin," Paul answered, digging his wallet out of his back pocket. He dropped a dollar bill in the tip jar that sat next to the register and handed her a twenty. She counted out his change and reached it across the counter.
As their hands touched, Paul heard an explosion. Loud and muffled at the same time, it was followed by a thin, shrill scream. He jerked his hand back, looking around the shop bewildered. No one stirred or looked up; no one did anything. His eyes met hers, his heart pounding.
"You okay?" Jessica asked him. She was still holding out his change, but her look had become one of concern.
Paul looked around again. "You didn't hear that?" he asked her quietly.
"Hear what?" She cocked her head to listen.
"Nothing." Paul shook his head. "I must be hearing things. Thanks, Jess." He took his change and walked the length of the bar. It wasn't until he was almost at Brenna's table that he noticed the big man huddled over another table in the corner furthest from the entrance.
"Morning, Roche." Paul called to him.
Surrounded by books and ledgers sprawled haphazardly across the table, the man seemed oblivious to his environment. A big round head sat atop his mountainous shoulders, bald and topped with a battered black fedora. A blue pocket tee tried to contain the bulk of his torso, and a pack of cigarettes strained the pocket on his left breast even further. He made a notation in the ledger before him, cursed, erased it, and glanced up.
"Paul," he nodded, then looked back down at the page before him.
Brenna had her laptop on the table and a tablet of hand-written notes beside it. They both sat neatly square with the edge of the tabletop, a cup of coffee just within reach on one side and an untouched slice of lemon poundcake on the other. She stopped typing as he approached and looked up at him.
Her hair was black and straight, parted down the middle to brush against her shoulders equally on both sides. The dark of her hair was in stark contrast to her smooth and milky white skin, and her face was a study in perfection. High cheekbones, full red lips and a small button of a nose all took a backseat to the beauty of her eyes, though. So brown they were almost black, Brenna's eyes seemed to swirl with depth and beauty and sensuality. She had a way of looking up at him without raising her head that he found adorably breathtaking. A little horizontal line appeared across her forehead, and her big dark eyes got bigger and somehow more beautiful. It was how she was looking at him now. A slow smile started on her lips as their eyes met, and Paul leaned over to cover it with his own smile. She tasted of coffee and mint and lipstick.
"Good morning, gorgeous," Paul sat next to her as she snapped shut the laptop. She took a moment to close the notebook and set it perfectly square on top of the computer, then slid them both to the center of the table. When she was done, she turned sideways in her chair toward Paul and put her hand on his knee and her full attention on him. He saw the agate oval that hung always at her throat from a delicate silver chain, hovering over the modest cut of her light blouse.
"Good morning, my love." Her voice was soft and low, and her eyes lingered on his. "Are we still on for tonight?"
Paul nodded while Jessica approached the table with his order. "Absolutely," he told Brenna, then looked up at Jessica while she placed the coffee and muffin on the table. "Thanks, Jess."
He sipped his coffee and turned again to Brenna. "Where's your brother?"
She rolled her eyes and frowned a little. "He didn't come home last night." When she saw Paul's frown, she squeezed his knee gently. "Don't worry, he'll be here. Where's Kris?"
"Running late. As usual." A plain round clock hung on the wall above Roche, and Paul turned to glance at it. He reached across the table and slid Brenna's breakfast and fork in front of her. "Better eat while you have time," he said, and took a giant bite of his muffin. Crumbs littered the table while he reached to snatch a paper napkin from the small stack by her plate.
Her fingers, slim and delicate, moved from Paul's knee to pick up her fork. She cut a small perfect square from the corner of the cake and slid the fork underneath it gingerly. She chewed slowly and deliberately as she spread a paper napkin over her right knee. She swallowed, had a sip of coffee, and turned her gaze on Paul again.
"What time tonight?" she asked.
Paul shrugged. "I should be home about six or six thirty. I can be at your place by seven." He took another sip of his white mocha. It was cooling down, so he took a long drink.
"Okay," she nodded. She glanced at the clock, and her fingers strayed unconsciously to the amulet at her throat. "I should probably get going." Brenna was never late. For anything. Ever.
The door opened then, the bell clanging noisily as two young men entered arguing.
Tall, with dark hair cut short and styled to careless perfection, one man moved his hands excitedly as he spoke. "It's called a pre-emptive strike," he was saying loudly. "The best defense is a good offense."
His companion was shorter, with a slight build and more subtle gestures. He was shaking his head slowly. Blue jeans and tee shirt and a light jacket all hung loose on his frame, and his hands were stuffed into the pockets of his jacket. Light brown hair covered his head in disheveled clumps, constantly threatening to fall into his eyes.
"How can you be the one defending yourself if you are the asshole that strikes first?" He was still shaking his head. "How can you know what would happen if you didn't attack if you always open with an attack?"
"It's the nature of the beast," the dark-haired one answered with finality. "These savages will move in at the first sign of weakness." His smile came as easily as the other's frown, and he seemed to be clearly enjoying the banter.
His companion appeared visibly uncomfortable, on the other hand. "We're not talking about war, we're talking about women," he said icily. He pulled his hands from his pockets and pushed a lump of hair from his forehead, quickly sweeping the room with a shy stare. Sharp gray eyes took it all in and came to rest on the girl standing behind the register. His eyes widened a little, a shy smile lit his face for a moment; then he looked away and stuffed his hands back in his pockets.
"Good morning, Jessica," he said, staring at the floor. He pronounced her name carefully, like it was a sacred thing.
"Hey, Kris," she replied, glancing away from the taller man behind him for a moment and then back. With a voice lower and slower she said, "Good morning, Matt."
"Hey, Jess," Matt answered as he stepped between Kris and the counter. "Two cups of your finest house brew, please. My companion will surely need cream and sugar; he can only swallow life and coffee masked by false sweetness."
"I customize my coffee to my taste," Kris said defiantly. He threw a scornful look at Matt and a softer one at Jessica before returning his eyes to the floor. "I don't just drink any dark and bitter brew someone else serves up for me."
A bark of laughter, and Matt called out to the man at the back of the room. "Hey Roach, Kris thinks your coffee is dark and bitter."
"Roche!" The man called out without looking up, correcting the intentional mispronunciation with deliberate rudeness. He made a mark in the journal before him, closed it, and stood up. Glaring balefully at Matt, he grumbled, "He was talking about life, not coffee, jackass." Roche turned to Kris. "Good morning, young man," he said, almost smiling. "Still casting your pearls before swine?"
It was Kris' turn to laugh. By the time he returned the older man's greeting, Roche had turned and gone through the door at the back wall that said 'OFFICE' on a black and white plastic plaque affixed firmly at eye level. It slammed shut behind him.
Kris walked to their table, doffing his jacket and hanging it on his chair as he sat, while Matt got their coffee and followed him over.
"Hey, guys," Matt said casually as he sat lightly on a chair across from Brenna, setting his companion's cup on the table as he took the adjacent seat.
"You're late," Brenna said. Her voice was forgiving and reproachful at the same time.
"The day doesn't start until I start the day," Matt grinned. "I'm always on time, little sister."
"Drink your coffee," she said, ignoring him. "Don't make Paul late for work."
He ignored her for a moment too, reaching across the table to seize the rest of her lemon pound cake. Picking it up with his fingers, he bit off half of what was left in one huge bite and raised an eyebrow at her across the table. He gulped loudly, took a long pull off his coffee, gasped at the heat, gulped again and asked, "You weren't going to eat that, were you?"
Brenna rolled her eyes and stood up. "I've got to go," she announced. She looked hard at Matt. "I believe we all do."
Matt gazed up at his sister, and Paul was struck anew at how alike they could look sometimes. The very expression that was adorable to him on Brenna he thought made Matt appear a helpless silly puppy dog. Matt's long string of lovers surely thought it the other way around.
They made for the door all at once, cutting the number of customers in the coffee shop by half in one fell swoop. When they reached the door, Paul opened it and stood back, holding it open for the rest of them. Brenna reached out and brushed her fingers lightly across his abdomen, passing by first. Matt made as if to punch him in the gut as he walked by, his good-natured feint ending inches from Paul's stomach. As Kris passed, he mumbled thanks to Paul and stole one last glance at Jessica over his shoulder as she waved goodbye to the group. A smile played on the corners of his mouth as his eyes met Paul's. . .
. . . And when their eyes met, Paul heard it again: a loud thunderous crash, followed by a blood-curdling scream. It was louder this time, and he blanched, letting go of the door. It swung shut, barely missing Kris as he stepped hastily outside. Hanging there above the swinging steel and glass, the little brass bell bumped and rolled over the top of the door, clanging noisily. It clanged again as Kris opened the door and poked his head in, a concerned look on his face.
"You look like you've seen a ghost," Kris said, stepping inside again. "Are you okay, man?"
Jessica had come up behind him, looking just as concerned. "Paul? Are you alright?" She touched his shoulder lightly.
"Yeah, I'm fine," Paul forced a smile. "You guys didn't hear that?"
"Hear what?" Jessica and Kris asked together.
"Nothing." Paul shook his head, as if to clear it, and reached for the door again. The brass bell danced across the swing of steel, its last frayed thread giving way a little bit, but not breaking. It clanged again as the door swung shut behind them; then it hung silent and still, just a little lower than it had before.
Gathered outside, Brenna couldn't decide who to fuss over. She turned to Matt, but her eyes kept coming back to Paul. Taking Paul's hand, she spoke stern to her brother. "You should take him home; let him call in to work for both of you."
Paul was shaking his head. "I'm fine, sweetie." Encircling his arm around her slim waist, he pulled her close. "Besides, it's his first day, if I do get him a job. He can't call in on his first day."
Dark pools of love looked up at him, but her eyes turned to black ice when she looked at Matt. "He'll find a way to screw it up anyway."
Paul nuzzled Brenna's hair, in part to breathe in the smell of her and in part to hide his smile. Looking over the top of her head, he noticed a man standing across the street watching them. His garb oddly both out of season and out of place, he stared at Paul intently with neither guile nor candor. The man wore a leather cowboy hat and matching leather overcoat hanging from broad shoulders nearly to the ground. Leather boots poked out from under the long duster.
His whole outfit seemed cut from the same bolt of thick leather. Surely striking when new, the ensemble now hung limp, battered and worn. A deep oiled brown on the armpits, the overcoat was faded to a dry blond in many places. Clumsy stitches held the coat together in three different places with three different colors. At its hem, the trench coat looked scorched, and the boots had the same beaten and battered and burnt color. Banded in what looked like dull red snakeskin, the leather cowboy hat was perhaps the most abused part of his whole outfit. Misshapen by a dent, it looked like a part of the brim had been sliced off clean. A pair of holes the size of marbles punctuated the planned hollows of the hat, a few inches forward from the unnatural grapefruit-sized concavity. Apparently there were matching holes on the other side, as Paul could see daylight through them when the man turned his head slightly. He could also see little black rings around the holes, like scorch marks.
Paul was overwhelmed by an otherworldly feeling as he looked at the strange man, and he swooned a bit as he brought himself back into his world of Matt and Kris. And Brenna. He breathed her in deep, glad she hadn't noticed him waver a moment earlier. Paul focused on their words as she argued with her brother.
"It's like you think I can't do anything right," Matt was complaining. The only time he was not the picture of strength and confidence was around his sister. All it took was a critical word from Brenna, and the man became a boy again.
"No, you're good at lots of things," Brenna responded blithely. "Short and shallow relationships, making promises you don't keep, pissing away money." Her body was stiff and rigid against Paul, only increasing the discomfort he always felt when the siblings went at it. Later, he knew, he could look forward to each of them seeking a private moment with him to complain at length about the other. He would validate both of them, feeling they were each wrong in their way but never saying so. She knew her weaknesses and her limits; it was his happy job to let her blow off steam without fear of criticism. And her brother . . . well, lecturing Matt was as useless and obvious as telling a tree it is made of wood.
Paul pulled Brenna close to him. "Sweetie," he said. He was going to say, "We have to get going", but the door opened behind them, swinging inward to the coffee shop.
After announcing countless arrivals and departures, hanging as silent sentinel in between, the brass bell clanged once as it climbed over the top of the door one last time. Rolling, it clanged again and then again and dropped to the length of the one last thread holding it suspended. The thread snapped soundlessly, and the bell fell just as silently through open space. It clanged again as it hit the floor and half-rolled, half-skittered between the four friends and to the edge of the sidewalk. One more roll and it would have been in the street. Instead, it sat at the curb; silent, still and unnoticed.