Kissing Demons
by Jen Winters
A fast-paced, page-turning, paranormal romance from Jen Winters.
An enchanting tale written from the POV of the heroine, a smart, tough and tender Guardian.
I love the writing style, the depth and strength of the many characters, the fascinating and unique world, and the hot yet sweet romance.
I am looking forward to reading the next installment.
Guardian Geneva Archer might be more infamous than famous among the supernaturals in Ft. Worth, but when a sexy werewolf enters her territory, she finds herself face to face with her worst fear: save humanity or save her soulmate?
After 800 years of guarding humanity from the things that make your hair stand on end in the dead of night, Geneva Archer is given a two-week vacation to work out her feelings of loneliness and refresh her spirit. With time on her hands, she goes to her favorite club: a place for supernaturals to gather without worrying about human interference. While there, she meets Alex, a compelling werewolf with a demonic side. But instead of blasting him back to hell like her instincts would normally tell her to do, Geneva falls head over heels.
For Alex, Geneva is an answer to prayer. She can free him from the most notorious demon walking the earth—his father. Yuruch isn't interested in his offspring's life, just his body—the perfect body for a demon to inhabit. With Alex's body and powers, Yuruch will become nearly invincible, able to wreak his hellish destruction on humanity from an impenetrable fortress.
In order to get his hands on Alex, Yuruch kidnaps one of Geneva's sisters, luring both her and Alex into an ambush. After the botched rescue mission, Alex is possessed by Yuruch, leaving Geneva with a dead sister, a destroyed city, and no way to get her soulmate back without giving Yuruch everything he desires.
Can Geneva figure out a way to defeat Yuruch and save Alex without sacrificing the very best of humanity in the process? Does she even want to?
Kissing the Rain
by Jen Winters

A brief but very entertaining short introduction to The Guardian Novels.
It's a fast-paced, well written book, with amazing characters and great attention to detail.
Jen Winters has a wonderful imagination and for a short time I was allowed to escape into her world.
I read it in one sitting, it's impossible to put down.
I enjoyed it immensely and have already started reading the next book in the series, Kissing Demons.
The events in this book run alongside the events at the beginning of Kissing Demons, but from a different point of view.
When Yuruch calls for his children to join him in Ft. Worth, it takes every ounce of willpower Alex has to stay away. He may have to go to Texas, but he would rather die than become his father's puppet.
This novelette follows Alex in the days leading up to meeting Geneva. If you haven't already read Kissing Demons, this is your chance to meet the MCs from Alex's POV.
Ice
by Jessica Wren
A gripping short story with great characters and a fabulous plot.
Well written with lots of back-story for the characters and each of the five parts told from a different characters perspective.
A fast paced, interesting and enjoyable mystery with a touch of paranormal.
In Minterville, Georgia, the residents live in relative seclusion, partly to keep crime out of their small, tranquil community, and partly to prevent the world from finding out about The Minter, a form of telepathy that interconnects them and gives them a sense of unity.
Then The Minter, which cannot function in the presence of evil, stops working. Mayor Tom Watson suspects that two families who had recently moved to town have ties to Manuela Escribano (known as the Ice Queen), a prolific drug lord who, unbeknownst to the rest of Minterville, has a deadly score to settle with Tom.
No one, including Tom, has any idea how deep the Manuela's desire for revenge runs, until one Friday morning, twenty women disappear. When Manuela sends in a video detailing her diabolical plot to get revenge against Tom and the community that has harbored him for thirty years, Minterville must come together as one to rescue the women before time runs out. They must act quickly, or innocent people will die and their beloved community (and along with it, The Minter) will be destroyed forever.
Eternal Service
by Regina Morris

An adult paranormal book that has suspense, action, and romance.
A wonderfully written book, with great character development.
The story flows well and has a unique take on the lives of vampires and their place in the world.
I was captivated by the book and think it's a great start to the series.
Vampires exist among us. They can be our neighbor, best friend, our child's teacher …
They alter their aged appearance based upon the amount of blood they consume. They move to a new area, drink a lot of blood, and appear young. Slowly they limit their intake of blood and age, right in front of our unsuspecting eyes. After decades, they fake their death, move and do it over and over again.
Most live quiet lives in an effort to blend in.
Some, however, want power and control.
The Colony is an elite group of vampires sworn to protect the President of the United States from these rogue vampires.
When Raymond Metcalf, vampire coven master of the Colony, teams up with a federal operative of the human female persuasion–who has no idea that vampires even exist–will his mission or his heart be compromised first?
Career military woman, Alex Brennan, is being offered the promotion of a lifetime and with it a romance that she has desperately been seeking. Does she dare accept the position as Director of the Colony, an elite group of deadly creatures of the night and risk a dangerous romance with a man who isn't even human?
Together, can they save the President?
Gods of Anthem
by Logan Keys


Until nearly the end of the book, you go back and forth between two stories, told side by side from the point of view of two people, leading totally separate lives. You know they are going to link up, but you don't know how.
There's mystery, suspense, action and romance. Real characters with depth and emotions. Some amazing world-building and a unique plot.
There are some 'slow' moments, but that just gives you a chance to breath.
All in all it's a well-paced page turner.
The ending leaves a lot of questions unanswered, which sets you up for the next book.
I can't wait for the sequel!
Oceans apart, a young musician and a "special" soldier embark on a perilous journey for home fueled by the unyielding pursuit of freedom from the Authority.
Sixteen-year-old prodigy, Liza Randusky, waits imprisoned, blamed for the undead plague that's slowly destroying the planet. Banished to an island where she'll never play her beloved piano again, Liza's steadfast sense of justice and passion for music may have the power to change her destiny. But will it be enough…
To strike back at the new world order, the troubled son of a preacher, Thomas Ripley-Hatter, suffers unspeakable alterations by the Underground to join a secret Army. Tommy knows that all hope lies in human-weapons like himself and that somehow he must cling to his sanity…while letting loose the monster to win.
The battle begins for the last-standing sliver of humanity: Anthem
Regina: The Monster Inside
by D.M. Singh
Wow, what an amazing world I have been in while reading this book.
Witches, elves, vampires (not the twinkly type) and more, they're all there, along with an adorable plant, called Gerald… I want a plant that snores, purrs and eats biscuit crumbs!!
D.M. Singh had me hooked from the start, wove a magical tale…..
then slammed a cliff-hanger at me and left me needing book 2 now!!
I hope I don't have long to wait.
What if what you were could destroy everything and everyone you loved?
Regina thought she was an average teenager. When strange things start to happen, she discovers that not only does she belong to a hidden world of supernatural beings, but that she is the most powerful and dangerous of them all. Her existence is a death sentence to her – her survival could be a death sentence for us all.
Can Regina fight the darkness within her and hold onto her humanity? Will those who fear her destroy her and those she loves? Or will those who seek her power unleash the monster within.
Join the fight for survival!
The Gatekeeper's Sons
by Eva Pohler
A great introduction to the Gatekeeper series.
I loved the mix of modern day with the old mythological gods and goddesses. The author tied it all together very well.
She also brings all the characters to life, the main characters and the supporting ones, both humans and gods.
Great storytelling with a terrific pace.I enjoyed it immensely.
Fifteen-year-old Therese watches her parents die. While in a coma, she meets the twin sons of Hades—Hypnos (the god of sleep) and Thanatos (the god of death). She thinks she's manipulating a dream, not kissing the god of death and totally rocking his world.
Than makes a deal with Hades and goes as a mortal to the Upperworld to try and win Therese's heart, but not all the gods are happy. Some give her gifts. Others try to kill her.
The deal requires Therese to avenge the death of her parents. With the help of Than's fierce and exotic sisters, the Furies, she finds herself in an arena face to face with the murderer, and only one will survive.
The Witches of Merribay
by BJ Smash


Witches, ghosts, fae, mermaids, hellhounds, fairies, elves, and pixies…
this series has them all and more.
It has a well written, fast paced, busy plot, with plenty of action and plot twists
The characters are interesting and the descriptions are creative.
Living in Maine with her grandmother and eccentric aunts is not how sixteen-year-old Ivy Seaforth expected to spend her summer. Working for a peculiar, wealthy man and running errands for a powerful witch who lives in a tree wasn't in her plans, either. Her sister, Zinnia? Well, something was different. Zinnia was making mysterious visits to the forest, and that was certainly forbidden. Ivy longed for the days when she and her sister were best friends. Those days now seemed so long ago.
Ivy soon discovers that, along with the witch, the forest is inhabited by a wondrous race of otherworldly and stunningly beautiful beings – the Fae, and a young man of an even fairer race. When her father disappears, Ivy, must convince the old witch to break an evil curse that prevents her from finding him. As she discovers her own mysterious past for the first time, she must learn to accept that things are not always as they seem and that magic might just be real.
With this new knowledge and the help of her new friends, will she be able to find her father? Will she be able to save her sister? Or is Zinnia already beyond being saved?
The Witch and the Hellhound
by BJ Smash


I can only repeat my review from the previous book in the series and add that I will definitely be reading more of this series.
The adventure of a lifetime for a young woman just discovering the mystical and magical elements of the world that surrounds us all. Ivy Seaforth must journey to lands unknown to find and retrieve a certain book of spells stolen by her foolish sister, Zinnia. Encountering setbacks at every turn, Ivy must leave behind her mentor, the powerful Izadora, and delve deep inside herself for the courage to carry on. With her newfound friends, the handsome Lucian, and Pladia—the spitfire pixie— she travels to the mist-shrouded island of Hy Brasil. There she meets a great wizard, Maximus, who may be something just a bit grander than she expects.
In a chaotic quest to save those she loves, Ivy meets the light elves, the Seelie Fae, and must contend with the evil deeds of the Unseelie.
She also learns a dark secret about the McCallister clan that can no longer be hidden. Will she be able to accept and live with this secret?
And what about Aunt Cora? Ivy can't help but meddle with her fate and now Cora is acting… quite strange. What will become of her? Will Cora continue to search for her true love…or has she already found him?
In the Beginning
by Elle Klass


A powerful and well written, but brief introductory novel to a series, that has left me wanting more.
The author does a great job of depicting events and settings and bringing her characters to life.
I can't wait to read the next book in the series.
In the Beginning is a short story within a long series. More short stories in this series will follow in the near future.
Follow Cleo on her epic saga which begins when she abandoned by her mom at twelve. She has no other family which she is aware of, and in order to survive she leaves her home and lives on the streets. She meets some interesting characters and gets into some amusing predicaments all in the name of survival, such as jumping trains, being chased through the woods by a crazy man with a loaded shotgun and witnessing an unspeakable crime. After a few months on the streets she runs into another group of kids, Einstein is the oldest and a leader in the group, and they form a family of sorts. For survival and money, they lean towards a life a crime which inevitably breaks up their family and sends Cleo and Einstein spiraling into their own adventure. Eventually, they settle into a "normal" life however their pasts can't be hushed forever …
Deceived
by L.A. Starkey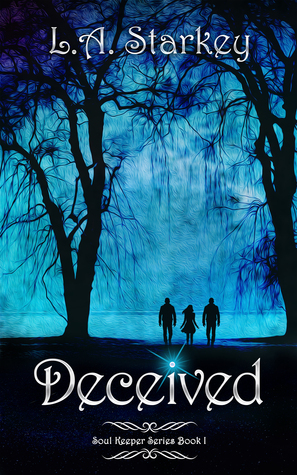 Deceived is the first book In The Soul Keeper series, and I'm pretty certain that it's going to be fantastic series.
Deceived is a wonderful book that kept me interested until the end and left me wanting more. I will certainly be reading the next book in the series.
The mix of mythology and modern teenage life means there's a lot going on, but it all flows well.
Wonderful storytelling of an incredible story, with many multi-faceted characters and multiple perspectives.
They say a soul is the immaterial essence, the animating principal, the actuating cause of an individual life.
But what if you had to share yours with the one person you hated the most?
The soul mate principal states that for every one soul there is another that will recognize its match, hence creating the perfect union.
But what if you had two soul mates, which would you choose?
What if your choices had eternal ramification?
Deceived, the debut novel in the Soul Keeper Series, is a modern day love story about the implications of having more than one soul mate, and having to choose between the two of them. The decisions of the gods has left the next generation, their heirs, torn between fate and reality, and the balance of the future hangs in anticipation of what's to come.
Blue Moon
by Pat Spence


An entertaining and interesting read. Well written with an original and unique storyline. A great start to the trilogy.
It started off slowly but gained pace soon enough.
It captured my attention with vivid descriptions and awesome characters and kept me on my toes with the mystery and unpredictable twists.
I'm looking forward to reading book two
Forget vampires," he laughed dismissively.
"Who wants to drink blood for eternity? What we have discovered is far more seductive and a great deal more dangerous…"
When 17-year old Emily Morgan meets beautiful but strange Theo de Lucis, there is an immediate attraction between them. But what is his secret? What ancient link ties him to Emily? And what is the significance of the Blue Moon Ball?
As Emily is drawn irrevocably into the glamorous and mysterious world of the de Lucis family, so she is forced to change every perception she has ever had about life, love, aging, and death. The truth is terrifying and the consequences unthinkable… in this supernatural horror story, based on society's obsession with aging and the desire for eternal youth…
The Rise of the Elohim: The Spirit of Iris
by Rocky Rochford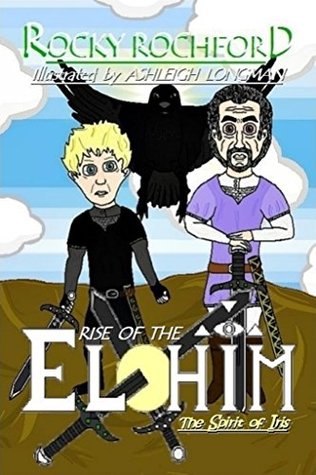 I thoroughly enjoyed this book, it was well written, very descriptive, and easy to read.
The story pulls you in and doesn't let go even on the last page.
Rocky Rochford has a great imagination and is a wonderful storyteller.
He has created an entirely new and unique world with its own history and legends.
Set in a world much unlike our own, on a lonesome planet at the end of the universe, an epic battle between good and evil is about to come to pass. Living in a medieval era, the inhabitants of the world find themselves up against the dreaded Shanzi, vile creatures of pure darkness who seek one thing, the annihilation of that which is good. There is only one who can stop them, a young boy by the name of Zach who must Rise up against the forces of darkness and drive them back to the shadow existence from whence they came.
The Rise of the Elohim: Hour of Darkness
by Rocky Rochford


The Rise of the Elohim: Hour of Darkness gives a brief look at events following The Spirit of Iris but from a different perspective
I am looking forward to reading the next book in the series.
With the Shanzi King's return to Mares looming on the horizon, ready to unleash an eternity of chaos, three of his most trusted and dangerous generals take to the World of Oceania to begin preparations for the return of Darkari, the Dark King of Death. Shaymon, bringer of diseases. Stavros, the always hungry wolf. Mongra, the maker of war. Each one desires nothing more than the total eradication of all humanity. But to do that, each must find a place in the world they seek to destroy.
A Neophyte's Tale
by C.K. Dawn


A very quick read, and a great taster for the Netherwalker series.
It's a well-written story that gives a glimpse at the world that the series will take you to.
I'm not sure what's happening and I have a lot of questions… but I'm hooked.
I'm definitely going to be reading the next book of this series.
Abigail Thorne hears voices. Well, one voice repeating one word over and over again. Soft and sweet with the promise of power, it calls to her. The twelve year old has no idea that the tender little word is a catalyst that serves to reveal a world hidden to most humans. Abbey has yet to discover that following the word's call to its origin will change the course of her life forever.
Abbey and her mother don't have much, and depending on the day, sometimes they don't even have a roof over their heads. She wants more out of life than just wondering where her next meal is. So she shouldn't be wasting her time daydreaming about going on a selfish quest, should she? Does she have the strength to leave behind what little she has? Will she have the courage to break through the illusions surrounding her and lift the cloak of shadows?
Once Upon A Western Way
by Markie Madden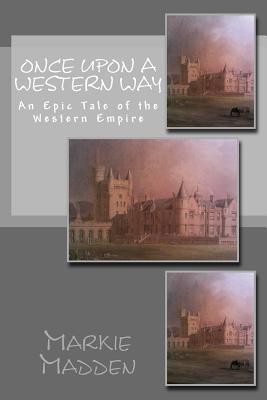 A beautifully written fantasy, which flows along at a steady pace.
A wonderful blend of past and futuristic, with likeable characters and a great twist at the end.
If you're looking for love, romance, passion, and courage… it's all here.
In a world where computers rule over everyday life, two lonely children find an old diary, an ancient relic left behind in the ruins of a civilization gone by. Together they explore the life and love of a young princess who is destined to leave her mark upon the world. Young Susan finds herself moved far away from her childhood home, and betrothed to the prince of a neighboring kingdom. She vows to hate her new husband, but when a destructive force destroys her home and family, he is the only one she can turn to. Joseph fell madly in love with her the moment their eyes first met. But her prickly attitude told him that he would have to work hard to win her over. And when circumstances threw them together, he would give up his life to protect her.
Throwing Away the Good 
by Veronica Del Rosa
A short, action packed and somewhat 'steamy' book.
Within this story, you get a teasing glimpse of the characters and the world that will, no doubt, be expanded upon in the following books.
A great little introduction to the Enforcers and Coterie series.
I lusted after him the first time I laid eyes on him. He was simply beautiful, more radiant and alive than the Fae holding me captive. And that's saying a lot, as the Fae are breathtaking to behold.
There was something about him, though, a quiet dignity that shone through his lowly station. I'd heard the rumors of his existence, a sex slave to the master, sometimes sold to the highest bidder for the night. And yet, he walked with his head held high – metaphorically, that is.
He hid his face most of the time, staring at the ground. The reactions he received to his unearthly beauty showed me why. The Fae ogled him with lust, greed and a need to possess him.
Still, he showed kindness to the other slaves, me included. He'd take beatings meant for others, as he knew the master would never do anything to permanently scar him. He'd slip me extra scraps of food and convince the master to let me train in the weapons room. There, I felt in control, powerful, and it helped me realize an important truth.
I am not a slave.
My destiny did not belong to the master. I would hold my head up with dignity and wait for an opportunity to escape. Soon, that day would come. I only hoped I could take him with me.
This is Karl's story.
Nine Lives
by Karin De Havin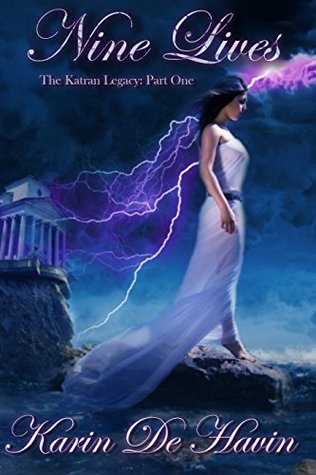 A fast read and nicely written.
Quirky characters in a fun and fantasy take on Heaven.
A bit of a roller coaster of a story with a few twists and turns.
Eighteen-year-old Taylor knows two things for sure: ONE: She's dead. TWO: Heaven looks like a run-down version of the Las Vegas Strip. The more she discovers about a heaven full of teens like her, the more mysterious it becomes—especially when her afterlife coach turns out to be her tyrannical fifth grade teacher.
Plagued by questions her whole life, Taylor finds Heaven prompts even more. Why can't she remember her death? Why isn't Heaven the idyllic place she thought it would be? When she dares to ask, her teacher tells Taylor to keep her mouth shut. Everyone knows Heaven is perfect. That's a lie. What are they trying to hide? Taylor desperately wants to flee this strange place and return to her old life. She's shocked to find out there's a possibility her dream can come true. But that chance depends on passing a series of tests in the Afterlife for Idiots Handbook and winning the Cloud Nine Contest. If she fails, will her teacher follow through on her threat and turn Taylor into pond scum?
Taylor tries to solve the mysteries of Heaven as it slowly crumbles around her. While competing in the contest, she learns there are dark forces at work behind the celestial show…and they are after her. This leads to the biggest question of all: Is she the only one who can stop them?
Arctic Bound
by Tigris Eden


A fast paced and smooth flowing plot, full of excitement and twists and turns.
A descriptive and action packed page turner, with memorable characters.
Not for the under 18's!!
There are secrets in even the smallest of towns…
Nerina Simpson fled the streets of New York City, hoping to find solace outside the small town of Talkeetna, Alaska. Physically scarred from a fire that claimed both her parents, Nerina keeps to herself while she tries to put the darkness of her life behind her.
When a winter storm forces her into town, she collides with Victor Canidae. An arrogant man who makes it no secret that he and everyone else in the town want her to leave.
Headstrong, and refusing to back down, Nerina finds herself in trouble when her two, four legged companions get lost in a storm, landing her in the path of an angry bear hell bent on taking her life. Until a mysterious white wolf comes to her rescue.
When she wakes up in a warm cave, the last person she expected to see is Victor. Stuck in a cave until the storm passes the two decide there is only one way to pass the time, and quickly when you're getting physical.
Don't Turn Around
by Rocky Rochford


This dark, short story is written in the present tense and first-person POV.
The writing style, with the short sentences, works well to build up the fear factor.
I am Death.
And I am hungry.
And there you are,
Unaware of my arrival.
Don't turn around.
Take a Shot
by Paul S. Anderson


I stepped outside my usual reading genres for this book.
Written in the first person, it's an interesting, thought provoking, emotional roller coaster ride.
An indepth look at life and some of the issues that we all face.
An amazing read!
"We are all misfits in our own unique way; therefore, each person is perfect in their own uniqueness"
Take A Shot the second novel from Paul S. Anderson is a story of self-discovery for an adult. The novel starts off with the narrator, Dave Stevens, in his favorite bar. Dave has been a heavy drinker for many years and has done all that he can to hide from the world. Being a regular he has grown close to two of the female bartenders that work at the bar, Tara and Kristi. He has been enthralled by Tara from the moment he got to meet her and has begun to question his drinking after a kiss they shared one late night. In getting to know Kristi, he wonders why she questions him on his drinking excesses. It is after an argument with Kristi over her concern for his well-being that Dave has his moment of clarity and finally decides that he needs to go back into his personal demons and discover the events that led him to choosing a life that was controlled by alcohol. It is on his journey through his soul that he understands the events of his life are not to blame for his choice and that facing your problems is a better solution than escaping them. It is through his self-discovery that he decides to take a shot at life.
In Search of Grace
by Kelly Ilebode


An interesting and well told story. The writing and plot flows along at a good pace.
There's plenty of suspense to keep you interested, as well as some romance, passion, and action. The characters were well developed and writing brought them to life.
Successful author Alexander Davis Alexandra Davis has a deep dark secret from her past that she has hidden from everyone, including those that love her the most. After meeting her new neighbor, she realizes that her secret has been holding her back from living a full life. Would she have the courage to open her heart to him before it is too late?
Seth Walton, a single ex-Navy Seal and now Massachusetts State Trooper knows his new neighbor has a past that she wants to keep buried yet he is bound and determined to help her not only face her demons but confront them head on. Soon, he realizes that he would need more than patience when he suspects that one of her demons from the past just might be the serial killer his department has been searching for. Will he be able to convince her in time to trust him before the killer strikes again or would he lose her forever?
The Mermaid's Den
by Ella Malone
A quick read, and a super introduction to an original new series.
The plot was good, moved along quickly, and kept me interested.
It was an enjoyable read, with believable characters in an imaginative setting.
Laura and Tom Flynn married after she fell for him hook, line, and sinker — literally. Finding Laura in his fishing net had been a shock for Tom, but one he came to embrace as they quickly fell in love. For fifteen years, they have lived and worked by the sea, and Laura hasn't thought once of what she left behind when she chose to marry Tom. She doesn't regret giving up her mermaid form. It wasn't a sacrifice. It was a good decision, and one she made to survive.
Now, with Tom missing at sea, Laura faces a decision she swore she'd never consider. In order to search for Tom and his crew, she must become a mermaid again and face the demons of the deep that she eagerly dodged when trading in her tail. Or she can stay on land and continue her life, but without Tom.
Does she enjoy her future alone, without the man she loves, or face her fears and her past in the ocean? Either way, nothing will be the same for her again.
Anything for Her
by Jack Jordan


A well written unpredictable suspense thriller.
The writing flows, the characters are dimensional and the plot is well thought out.
It kept me gripped from the first page to the last.
I received the book for free through Goodreads First Reads.
Sometimes the past comes back to haunt you.
Louise Leighton's life has fallen apart, all because of one fateful night. Her husband is an adulterer, her sister is his mistress, and soon, Louise will lose everything she owns. But she never imagined she would lose her daughter.
Eighteen-year-old Brooke Leighton is missing. It's up to Louise and the Metropolitan Police to find her. Has Brooke run away? Or has she been taken against her will? And can Louise aid the investigation without mentioning the night where all of her troubles began?
If she mentions that night, she will incriminate her daughter for heinous crimes. But if she doesn't, she may never find Brooke; and if she has been abducted, the person who took her may come for Louise, too.
Sometimes the past comes back to kill you.
The Case of the Missing Bubble Gum Card
by R. Weir


A heartwarming short story, and a lovely way to introduce a new detective.
Not a lot of detective work or action in this book, the first of the series. but plenty of personality and character.
I will be reading book 2
Jarvis Mann was a Private Detective, whose business thrived on the mundane, paying the bills following cheating spouses, getting in the middle of messy divorces and working for the Fat Cat Insurance companies running down false insurance claims. But one day on his office steps a young man coaxing with the simple word "Please" convinces him to help on a Winter's Sunday afternoon to find a missing valuable Ernie Banks Rookie Bubble Gum Card. With a dry sense of humor he drives the Denver streets from door to door, friend to friend, until a clue leads to a surprising discovery, a young man's personal pain and his friends selfish act, teach Jarvis a life lesson that will shape him with new hope and resolve.
A Guardian Angel
by Phoenix Williams


I found the style of writing a bit hard to read, it just didn't flow well.
Having said that, it was an intriguing story, with interesting ideas, and a satisfying ending.
A Guardian Angel is the story of Andy Winter, a hitman who is hired by a seedy corporation to tie up loose ends around the globe. He is haunted by the things he's had to do in his job and the murder of his childhood friend. The time that Andy lives in is marked by a conflict between the poor masses and the powerful elite. When Andy is recruited to kill journalist Haley Flynn, a noble woman, his moral conflict triggers the foundation of a corporate nation and the beginning of a modern American civil war. The novel is told through four short stories that, together, tell the story of mankind's downfall.
Jin In Time
by Karin De Havin


An enjoyable, light-hearted, quick read, with some quirky characters that lead to romance, adventures, and a few chuckles
A lot of books end with cliffhanger now, and I've got used to that, but this is one of those that just ends.
Spending senior year with the father who abandoned her is the last thing seventeen-year-old Esme wanted. But when her guardian grandmother dies, she has no choice. The only thing she has left of her once happy life is her grandmother's antique vase—until she discovers it comes with a bowler-hatted genie. Jin guarantees he'll do whatever it takes to make her happy again.
Esme soon realizes hiding a genie isn't easy, so she gives Jin a modern makeover and stashes him in the school library. One tiny hiccup—her dad's the principal. When word spreads that Esme is spending all her free time with a cute British guy, she's busted, and her dad uses his all-powerful parental authority to ground her. If that's not enough, she learns her father plans to marry a woman who could win evil-stepmother-of-the-year, and her daughter is the top mean girl at Esme's new high school.
Esme hopes to turn her luck around now that she has a genie to help her deal with her problems. But she realizes ten wishes aren't so awesome after all, when she finds out they are powered by Victorian-era magic. And she thought having a genie would be fun.
Desert Chimera 
by Leigh Podgorski
A vividly descriptive that mostly moves along at a fast pace, but with a lot of detailed flashbacks, which slows the pace down at times. The writing doesn't flow, but in a way that adds to the reading experience.
The story is full of tension and suspense, and is an entertaining read.
I received a free copy of the book through Choosy Bookworm in exchange for an honest review
Desert Chimera, the first book in the Metaphysical Suspense/ Mystery Stone Quest Series, introduces the reader to recluse, tracker, and reluctant twenty-eight year old psychic visionary Luke Stone and to his paranormal universe. Since his escape from the black magician Armand Jacobi seven years before, Luke Stone has been sequestered in the serene woods of Northern Michigan under the tutelage of Cherokee guide Shadow Wolf. When the shaman suddenly dies, Luke flees on a desperate cross-country quest. In the heart of Death Valley, Luke is assaulted by terrifying visions of the apocalypse. While praying in agony for release, a shimmering specter arises from the sands to stand beside him, but this is not the one Luke has so desperately sought.
Torrential rains flood; rivers of mud flow. Luke is forsaken. But deep within the cacophony of the storm, Luke hears a voice calling. Following the call, Luke stumbles out of the wilderness and into Eppie Falco's Desert Inn and Café. Gathered here also seeking shelter from the storm are an array of fellow travelers. However, upon a clap of thunder and a burst of lightning, the café door swings open and Armand Jacobi, the charismatic black magician Luke had seen as the vision in the desert and the man from whom he had run in stark terror now stands before him in the flesh.
Among the travelers whom Armand eventually takes hostage in his struggle for dominion over Luke is Consuelo Arroyo, a woman with whom Luke is falling in love—something Luke never thought possible. As Luke's battle with Armand heightens, as the lives of his fellow travelers lie more and more in the balance, Luke is confronted with the full horrors of his past. The battle that rages will culminate in either Luke's final destruction or his ultimate redemption.
Vampire: Alpha Claim 1
by Tamara Rose Blodgett
A quick and enjoyable fast paced novella, just enough to whet your appetite for the rest of the series.
Narah Adrienne is a bounty enforcer in the near future. She runs the seedy side of her game, capturing criminals too dangerous for the local law enforcement. Using unorthodox methods, she finds herself in the crosshairs of the Magistrate for too many allowable kills for the quarter.
And her head hurts like hell.
Aeslin is part of an elite vampire squad of Turners. A rare sect of vampire scouts who possess the ability to find women with enough undead blood to be turned into full vampire. As the numbers of supernaturals dwindle, it is the hope of the Nobles that extinction can be a thing of the past with female hybrids.
In a race against time and common enemies, can Aeslin find the one female who is meant to be turned and also his parallel soul? Or will the fabled carrot the Nobles dangle turn out to be a lie perpetuated by desperation?
Nobody's Home
by Corey Schultz Carter
A very short spooky story that could have been so much more. The first 70% was good, but the ending felt rushed and had a different tone

When a young college student signs up for a weekend of volunteer research in the Smoky Mountain region of North Carolina, she soon discovers that the cabin she has been sent to is uninhabitable. When a stranger shows up, claiming to be a fellow student volunteer, Catherine hesitates to trust him. Could he be the one who lured her miles away from civilization? Together they must decide how to survive one night in the dark confines of the abandoned cabin.
Enslaved in Shadows
by Tigris Eden
I like paranormal books and paranormal romance, but there wasn't much romance in this book… however there was a lot of very steamy sex.
I couldn't get a real feel for the main characters and prefered some of the supporting characters, with their interesting skills and powers.
All in all it was an interesting story that passed a few hours, but it didn't really grab or keep my attention.

A man's Past leads to his Future……
Agent Stone of the Shadow Unit's job is simple, most days. Work in the Shadows, police his own Kind.
When an unwanted assignment turns out to be his darkest fantasy from the past, Draven can't help but be conflicted by the memories of the past and his responsibilities in the future. But his decision has been made.
The Heart of a woman is Tested……..
Jes can't let the tall dark agent back into her life.
How can she trust any man after what she's endured? Years of abuse have broken her down and she doesn't have room for more. The man she turns to for help hasn't abused her physically, but he's tormented her emotionally. A past betrayal left her scarred, but also brought her life.
Can she accept him into her heart and trust him again?
One will survive and adapt, the other will realize hearts can be mended even if it's a bit too late.
The road to forgiveness sometimes only brings more pain. Unexpected events set their lives on two separate tracks leading to one outcome. Lives will be changed and an emotional battle to save their souls will leave them both trapped and enslaved in their need for one another.